Forage production in Urochloa hybrids under sun and shade conditions of Melia azedarach L.
Abstract
Urochloa hybrids CIAT BR02/1752 and CIAT BR02/1794 were evaluated under full sun and shade in a Melia azedarach L. plantation (1,000 trees/ha). The study was carried in Tlapacoyan (Veracruz, Mexico), at 847 masl, in an (A)C(m)w´(f) climate, with a mean annual temperature >18 °C, and 1,991 mm of rain/year. The grasses were established in March 2019, using vegetative material planted at 0.5 × 0.5 m, in 2.5 × 5 m plots. The experimental design was a split-split-split plot in three complete randomized blocks, with full sun or shade conditions as main plots, the hybrids as sub-plots, the harvest date as sub-sub plots and age of regrowth as sub-sub-sub plots. Dry matter (DM) yields per tiller, plant and hectare were measured at 8 and 12 weeks of regrowth, harvesting a 1 m2 sample located in the middle of each sub-sub-subplot. Fresh material harvested was separated into leaves and stems, and dried at 55 °C for 72 h. The DM/tiller was affected by Age (P<0.0001) and Group × Age (P<0.0003); with Group defined by the combination of Condition × Hybrids. DM yield/ha was affected by Condition, Age, Condition × Age, and other interactions (with Hybrids, Date and Age of Harvest). DM yield/tiller was more affected by Condition than by Hybrids. Total DM/ha yield was higher under full sun (1026.8±72.6 kg DM/ha) than shade (505.3±72.5 kg DM/ha), and the same happened for leaf and stem yields. Hybrid 1752 outyielded 1794 (1026.9 ±72.7 and 695.3±72.7 kg DM/ha, respectively). DM yield/ha also increased with age of regrowth.
References
Alonso J; Febles G; Ruiz TE; Achang G. 2006. Efecto de la sombra en la gramínea asociada en un sistema silvopastoril de leucaena-guinea durante sus diferentes etapas. Revista Cubana de Ciencia Agrícola 40(4):503–511. bit.ly/3RjRzkm
Araujo DLC; Oliveira ME de; Lopes JB; Alves AA; Rodrigues MM; Moura RL de; Santos MS dos. 2015. Características morfogênicas, estruturais e padrões demográficos de perfilhos em pastagem de capim-andropógon sob diferentes ofertas de forragem. Semina Ciências Agrárias 36(5):3303–3314. doi: 10.5433/1679-0359.2015v36n5p3303
Avellaneda-Cevallos JH; Romero-Garaicoa D; Pinargote-Mendoza E; Espinoza-Guerra I; Montañez-Valdez OD; Luna-Murillo R; Zambrano-Montes S; Cabezas-Guerrero F; Quintana-Zamora JG; Vanegas-Ruiz J. 2008. Comportamiento agronómico y composición química de tres variedades de Brachiaria en diferentes edades de cosecha. Revista Ciencia y Tecnología 1(2):87–94. doi: 10.18779/cyt.v1i2.70
Buitrago-Guillen ME; Ospina-Daza LA; Narváez-Solarte W. 2018. Sistemas silvopastoriles: alternativa en la mitigación y adaptación de la producción bovina al cambio climático. Boletín Científico Museo de Historia Natural 22(1):31–42. doi: 10.17151/bccm.2018.22.1.2
CONAGUA (Comisión Nacional del Agua). 2023. Normales Climatológica por Estado-Veracruz. Secretaría del Medio Ambiente y Recursos Naturales. Gobierno de México. Accedido el 26 de agosto de 2023. bit.ly/45Ncz7q
Cruz-Hernández A; Hernández-Garay A; Aranda-Ibañez EM; Chay-Canul AJ; Márquez-Quiroz C; Rojas-García AR; Gómez-Vázquez A. 2017. Valor nutritivo del pasto Mulato bajo diferentes estrategias de pastoreo. Ecosistemas y Recursos Agropecuarios 4(10):65–72. doi: 10.19136/era.a4n10.883
Cruz-Hernández A. 2010. Dinámica de crecimiento y valor nutritivo del pasto Mulato, a diferente manejo de pastoreo. Tesis Doctorado. Colegio de Postgraduados, Montecillo, Estado de México, México. hdl.handle.net/10521/332
Fedrigo JK; Benítez V; Santa Cruz R; Posse JP; Santiago Barro R; Hernández J; Mantero C; Morales Olmos V; Silveira ED; Viñoles C. 2018. Oportunidades y desafíos para los sistemas silvopastoriles en Uruguay. Veterinaria (Montevideo) 54(209):20–30. doi: 10.29155/vet.54.209.4
Fragoso RO; Temponi LG; Pereira DC; Guimarães ATB. 2016. Recuperação de área degradada no domínio floresta estacional semidecidual sob diferentes tratamentos. Ciência Florestal 26(3):699–711. doi: 10.5902/1980509824194
Flores-Morales E; López-Garrido SJ; Galicia-Jiménez MM; Ávila-Serrano NY; Camacho-Escobar MA; Arroyo-Ledezma J. 2023. Descripción morfológica de dos cultivares del género Urochloa y producción de biomasa por componentes. Terra Latinoamericana 41:e1590. doi: 10.28940/terra.v41i0.1590
Garay-Martínez JR; Cancino SJ; Zárate-Fortuna P; Ibarra-Hinojosa MA; Martinez-Gonzalez JC González-Dávila RP; Cienfuegos Rivas EG. 2017. Acumulación de materia seca y concentración de proteína cruda en cultivares de Brachiaria spp. en el trópico húmedo de Ecuador. Tropical Grasslands-Forrajes Tropicales 5(2):66–76. (En inglés). doi: 10.17138/tgft(5)66-76
Garay-Martínez JR; Joaquín Cancino S; Estrada-Drouaillet B; Martínez-González JC; Joaquín-Torres BM; Limas-Martínez AG; Hernández-Meléndez J. 2018. Acumulación de forraje de pasto buffel e híbridos de Urochloa a diferente edad de rebrote. Ecosistemas y Recursos Agropecuarios 5(15):573–581. doi: 10.19136/era.a5n15.1634
García E. 1981. Modificaciones al Sistema de Clasificación Climática de Köppen. Instituto de Geografía Universidad Nacional Autónoma de México. México. 3era edición Serie Libros Vol. 6. bit.ly/44Mgv7g
Gobbi KF; García R; Neto AFG; Pereira OG; Ventrella MC; Rocha GC. 2009. Características morfológicas, estruturais e produtividade do capim-braquiária e do amendoim forrageiro submetidos ao sombreamento. Revista Brasileira de Zootecnia 38(9):1645–1654. doi: 10.1590/S1516-35982009000900002
Jácome-Gómez LR; Ramírez-Villalobos MC. 2021. Incidencia del sombreado, biorreguladores y bioestimulante en el desarrollo y rendimiento del pasto Mombaza (Panicum maximum Jacq.). Revista de la Facultad de Agronomía Universidad del Zulia. 38(2):382–403. doi: 10.47280/RevFacAgron(LUZ).v38.n2.09
Jaime A; Rosemberg M; Echevarría M. 2019. Efecto de la edad y estación sobre el rendimiento y valor nutritivo del pasto elefante morado (Pennisetum purpureum × Pennisetum americanum) en la costa central. Scientia Agropecuaria 10(1):137–141. doi: 10.17268/sci.agropecu.2019.01.15
Lara C; Oviedo LE; Betancur CA. 2010. Efecto de la época de corte sobre la composición química y degradabilidad ruminal del pasto Dichanthium aristatum (Angleton). Zootecnia Tropical 28(2):275–282. bit.ly/44LeTdV
López-Vigoa O; Sánchez-Santana T; Iglesias-Gómez JM; Lamela-López L; Soca-Pérez M; Arece-García J; Milera-Rodríguez MC. 2017. Los sistemas silvopastoriles como alternativa para la producción animal sostenible en el contexto actual de la ganadería tropical. Pastos y Forrajes 40(2):83–95. bit.ly/3PcddEC
Maass BL; Midega CAO; Mutimura M; Rahetlah VB; Salgado P; Kabirizi JM; Ghimire SR; Rao IM. 2015. Homecoming of Brachiaria: Improved hybrids prove useful for African animal agriculture. East African Agricultural and Forestry Journal 81(1):71–78. doi: 10.1080/00128325.2015.1041263
Machado VD; Fonseca DM da; Lima MA; Martuscello JA; Paciullo DCS; Chizzotti FHM. 2020. Grazing management strategies for Urochloa decumbens (Stapf) R. Webster in a silvopastoral system under rotational stocking. Grass and Forage Science 75(3):266–278. doi: 10.1111/gfs.12491
Martínez D; Enríquez JF; Esqueda VA; Ortega E. 2020. Recambio de tejido de hojas en Brachiaria humidicola CIAT 6133 con diferente manejo de la defoliación. Revista Mexicana de Ciencias Agrícolas 24(Especial):47–48. doi: 10.29312/remexca.v0i24.2357
Mauricio RM; Ribeiro RS; Paciullo DSC; Cangussú MA; Murgueitio E; Chará J; Flores Estrada MX. 2019. Silvopastoral Systems in Latin America for Biodiversity, Environmental, and Socioeconomic Improvements. En: Lemaire G; Faccio PC; Kronberg S; Recous S, eds. Agroecosystem Diversity. Academic Press. Reino Unido. Pp. 287–297. doi: 10.1016/B978-0-12-811050-8.00018-2
Miles JW. 2006. Mejoramiento genético en Brachiaria: objetivos, estrategias, logros y proyecciones. Pasturas Tropicales 28(1):26–30. bit.ly/45NdLYs
Moreno LSB; Pedreira CGS; Boote KJ; Alves RR. 2014. Base temperature determination of tropical Panicum spp. grasses and its effects on degree-day-based models. Agricultural and Forest Meteorology 186:26–33. doi: 10.1016/j.agrformet.2013.09.013
Moscat Faria B; Frota Morenz MJ; Campos Paciullo DS; Ferraz Lopes FC; de Miranda Gomide CA. 2018. Growth and bromatological characteristics of Brachiaria decumbens and Brachiaria ruziziensis under shading and nitrogen. Revista Ciência Agronomica 49(3):529–536. doi: 10.5935/1806-6690.20180060
Muñoz-González JC; Huerta-Bravo M; Lara Bueno A; Rangel Santos R; de la Rosa Arana JL. 2016. Producción de materia seca de forrajes en condiciones de Trópico Húmedo en México. Revista Mexicana de Ciencias Agrícolas 16(Especial):3329–3341. doi: 10.29312/remexca.v0i16.400
Mwendia SW; Odhiambo R; Juma A; Mwangi D; Notenbaert A. 2021. Performance of Urochloa and Megathyrsus forage grasses in smallholder farms in Western Kenya. Frontiers in Sustainable Food Systems 5:719655. doi: 10.3389/fsufs.2021.719655
Obispo NE; Espinoza Y; Gil JL; Ovalles F; Cabrera E; Pérez MJ. 2013. Relación de la proporción de sombra en el potrero con el rendimiento, calidad del forraje y ganancia diaria de peso en novillos. Revista Científica 23(6):531–536. bit.ly/3EzsYjW
Oliveira AF de; Menezes GL; Goncalves LC; Araujo VE de; Ramirez MA; Júnior RG; Jayme DG; Lana AMQ. 2022. Pasture traits and cattle performance in silvopastoral systems with Eucalyptus and Urochloa: Systematic review and meta-analysis. Livestock Science 262:104973. doi: 10.1016/j.livsci.2022.104973
Oliveira GL de; Oliveira ME de; Macêdo EO; Andrade AC; Edvan RL. 2020. Effect of shading and canopy height on pasture of Andropogon gayanus in silvopastoral system. Agroforestry Systems 94(3):953–962. doi: 10.1007/s10457-019-00458-5
Parsons A; Edwards GR; Newton P; Chapman DF; Caradus J; Rasmussen S; Rowarth J. 2010. Past lessons and future prospects: plant breeding in cool temperate pastures. En: Proceedings of the 4th Australasian Dairy Science Symposium. 31st August–2nd September, Christchurch, New Zealand. Pp 272–291.
Phelps LN; Kaplan JO. 2017. Land use for animal production in global change studies: Defining and characterizing a framework. Global Change Biology 23(11):4457–4471. doi: 10.1111/gcb.13732
Pompeu RCFF; Cándido MJD; Neiva JNM; Rogério MCP; Benevides YI; Oliveira BCM de. 2009. Fluxo de biomassa em capim-tanzânia sob lotação rotativa com quatro níveis de suplementação concentrada. Revista Brasileira de Zootecnia 38(5):809–817. doi: 10.1590/S1516-35982009000500005
Ramírez-Reynoso O; Hernández-Garay A; Silva SC da; Pérez Pérez J; Junior SJS; Castro-Rivera R; Enríquez-Quiroz JF. 2010. Características morfogenéticas y su influencia en el rendimiento del pasto mombaza, cosechado a diferentes intervalos de corte. Tropical and Subtropical Agroecosystems 12(2):303–311. bit.ly/3sJPWCd
Sánchez JM. 2011. Melia azedarach L. Árboles ornamentales. bit.ly/3ZezGWb
Sánchez-Mendoza B; Flores Villalva S; Rodríguez Hernández E; Anaya Escalera AM; Contreras Contreras EA. 2020. Causas y consecuencias del cambio climático en la producción pecuaria y salud animal. Revisión. Revista Mexicana de Ciencias Pecuarias 11(Supl 2):126–145. doi: 10.22319/rmcp.v11s2.4742
Santiago-Hernández F; López-Ortiz S; Ávila-Reséndiz C; Jarillo-Rodríguez J; Pérez-Hernández P; Guerrero-Rodríguez JD. 2016. Physiological and production responses of four grasses from the genera Urochloa and Megathyrsus to shade from Melia azedarach L. Agroforestry Systems 90(2):339–349. doi: 10.1007/s10457-015-9858-y
Santos CA dos; Oliveira AF de; Moreira EDS; Gonçalves LC; Viana MCM, Neto MMG, Lana ÂMQ. 2023. Influence of shade on productivity and nutritional value of Urochloa decumbens in silvopastoral systems using different spatial arrangements of eucalyptus cultivars. Tropical Grasslands-Forrajes Tropicales 11(2):169–82. doi: 10.17138/tgft(11)169-182
Santos ML dos; Santos PM; Boote KJ; Pequeno DNL; Barioni LG; Cuadra SV; Hoogenboom G. 2022. Applying the CROPGRO Perennial Forage Model for long-term estimates of Marandu palisadegrass production in livestock management scenarios in Brazil. Field Crops Research 286:108629. doi: 10.1016/j.fcr.2022.108629
Soares AB; Sartor LR; Adami PF; Varella AC; Fonseca L; Mezzalira JC. 2009. Influência da luminosidade no comportamento de onze espécies forrageiras perenes de verão. Revista Brasileira de Zootecnia 38(3):443–451. doi: 10.1590/S1516-35982009000300007
SAS (Statistical Analysis Systems). 2013. User's Guide Version 9.4. Statistical Analysis Systems Institute, Cary, NC. p. 556.
Steinfeld H; Gerber P; Wassenaar T; Castel V; Rosales M; de Haan C. 2006. La larga sombra del ganado problemas ambientales y opciones. La Iniciativa para Ganadería, Medio Ambiente y Desarrollo (LEAD) Organización de las Naciones Unidas para la Agricultura y la Alimentación (FAO). Roma, Italia. 489 p. bit.ly/3Pazi6t
Torres Salado N; Moctezuma Villar M; Rojas García AR; Maldonado Peralta MÁ; Gómez Vázquez A; Sánchez Santillán P. 2020. Comportamiento productivo y calidad de pastos híbridos de Urochloa y estrella pastoreados con bovinos. Revista Mexicana de Ciencias Agrícolas 24(Especial):35–46. doi: 10.29312/remexca.v0i24.2356
Van Den Pol-Van Dasselaar A. 2017. EIP-AGRI Focus Group Grazing for carbon. Starting Paper. bit.ly/45JpBDd
How to Cite
Jarillo-Rodríguez, J., Castillo-Gallegos, E., & López-Ortiz, S. (2023). Forage production in Urochloa hybrids under sun and shade conditions of Melia azedarach L. Tropical Grasslands-Forrajes Tropicales, 11(3), 210–219. https://doi.org/10.17138/tgft(11)210-219
Downloads
Download data is not yet available.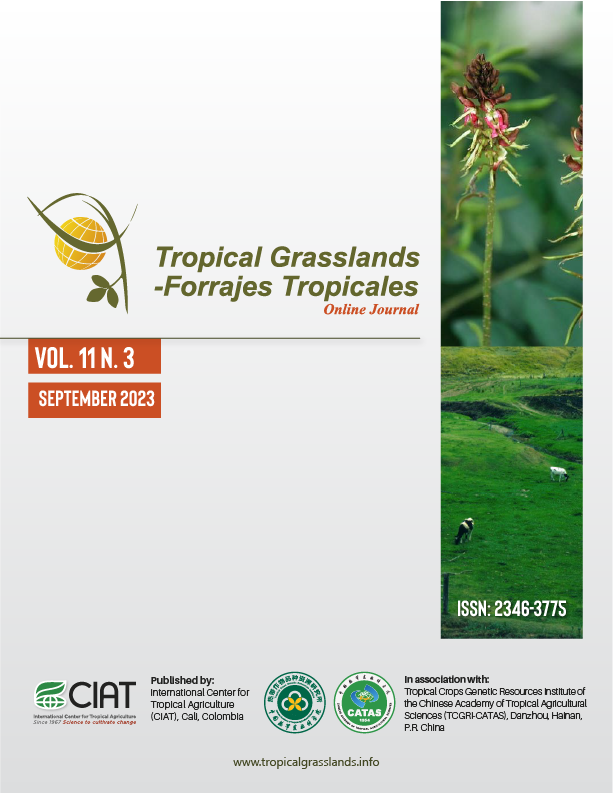 Downloads
License
Copyright (c) 2023 Tropical Grasslands-Forrajes Tropicales
This work is licensed under a Creative Commons Attribution 4.0 International License.