Chlorophyll concentration and production of <i>Urochloa decumbens</i> treated with diazotrophic bacteria and thiamine in the Brazilian Cerrado
Abstract
The effects of application of Azospirillum brasilense and thiamine on chlorophyll concentration and forage mass of Urochloa decumbens were evaluated in a small plot experiment conducted in Goiânia, Goiás, Brazil. The treatments were applications of: A. brasilense (concentration of 10 mL/L); thiamine at 2 concentrations: 50 and 100 mg/L; combinations of A. brasilense and thiamine at the 2 concentrations; and a Control treatment (untreated grass). At the first harvest there was a trend for applying A. brasilense, either alone or in combination with thiamine, to increase the concentrations of chlorophyll, but differences were not always significant at P<0.05. Dry mass of forage from applying A. brasilense plus thiamine at 100 mg/L was greater than that for Control and thiamine at both concentrations. At the second harvest, chlorophyll concentrations were not affected by treatment (P>0.05), while dry matter production of forage from applying A. brasilense alone and thiamine at 100 mg/L was greater (P<0.05) than that of Control and thiamine at 50 mg/L. Larger-scale and longer-term studies to validate these preliminary findings are needed.
How to Cite
Vendruscolo, E. P., de Oliveira, P. R., Rodrigues, A. H. A., Correia, S. R., Campos, L. F. C., Seleguini, A., & de Lima, S. F. (2021). Chlorophyll concentration and production of <i>Urochloa decumbens</i> treated with diazotrophic bacteria and thiamine in the Brazilian Cerrado. Tropical Grasslands-Forrajes Tropicales, 9(1), 134–137. https://doi.org/10.17138/tgft(9)134-137
Downloads
Download data is not yet available.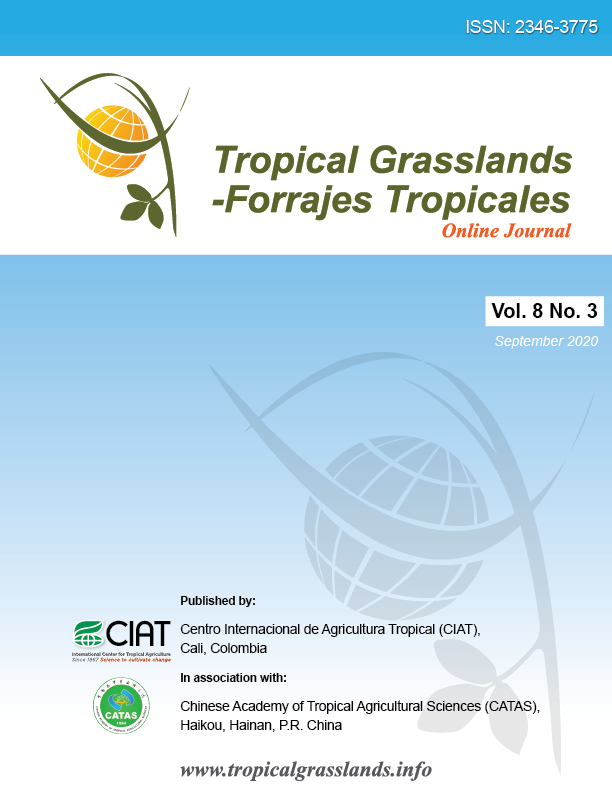 Downloads
Section
Short Communications