The evolutionary history of <i>Leucaena</i>: Recent research, new genomic resources and future directions
Abstract
Keynote paper presented at the International Leucaena Conference, 1‒3 November 2018, Brisbane, Queensland, Australia.
Ancestral genome duplication, genomic diploidization, allopatric diploid speciation and recent allotetraploidy (hybrid tetraploid formation) have all contributed to the complex evolutionary history of the genus Leucaena Benth. (Leguminosae: Caesalpinioideae: mimosoid clade). This complexity makes Leucaena an exemplary group to investigate the impacts of these diverse mechanisms on plant speciation across time and space. Furthermore, this complex evolutionary history offers unique opportunities and challenges for translational applied research to improve the use of Leucaena in agroforestry, livestock production, soil stabilization and enrichment and biofuels. Here we review and synthesize historical and recent research on the evolutionary history of Leucaena and highlight the availability of new genomic data resources and tools.
How to Cite
Abair, A., Hughes, C. E., & Bailey, C. D. (2019). The evolutionary history of <i>Leucaena</i>: Recent research, new genomic resources and future directions. Tropical Grasslands-Forrajes Tropicales, 7(2), 65–73. https://doi.org/10.17138/tgft(7)65-73
Downloads
Download data is not yet available.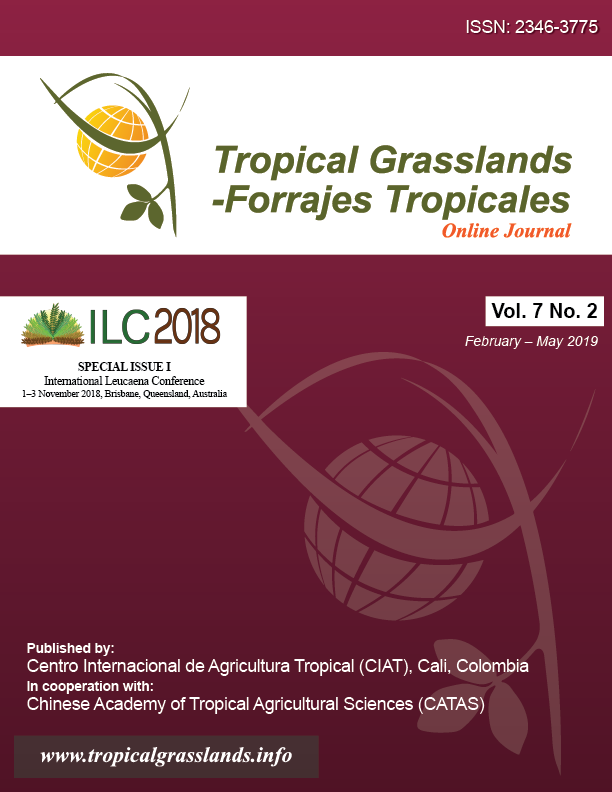 Downloads
Section
ILC2018 Session 1: Germplasm resources of leucaena