Review of establishment practices of <i>Leucaena leucocephala</i> cv. Tarramba in West Timor, Indonesia
Abstract
Keynote paper presented at the International Leucaena Conference, 1‒3 November 2018, Brisbane, Queensland, Australia.
With increasing cattle production in East Nusa Tenggara Province there is an urgent need to increase plantings of high quality forage such as Tarramba leucaena. This requires knowledge and practical skills by the stakeholders to achieve reliable plant establishment. As part of a study of Tarramba leucaena adoption in East Nusa Tenggara, it became clear that the best method to establish leucaena was by transplanting 1‒2-month-old seedlings at the beginning of the rainy season that had been pre-prepared in poly-bags at a nursery. However, with varied conditions at the study locations, such as the absence of a dry season water source, farmers have used other methods, including: direct seeding; poly-bag seedlings planted later in the wet season; or older bare-root seedlings harvested from a high density nursery or from volunteer seedlings growing between rows of established leucaena. This paper elaborates on the different methods of establishment in farmer plantings in Kupang District (West Timor region of East Nusa Tenggara Province), Indonesia.
How to Cite
Nulik, J., & Kana Hau, D. (2019). Review of establishment practices of <i>Leucaena leucocephala</i> cv. Tarramba in West Timor, Indonesia. Tropical Grasslands-Forrajes Tropicales, 7(2), 136–140. https://doi.org/10.17138/tgft(7)136-140
Downloads
Download data is not yet available.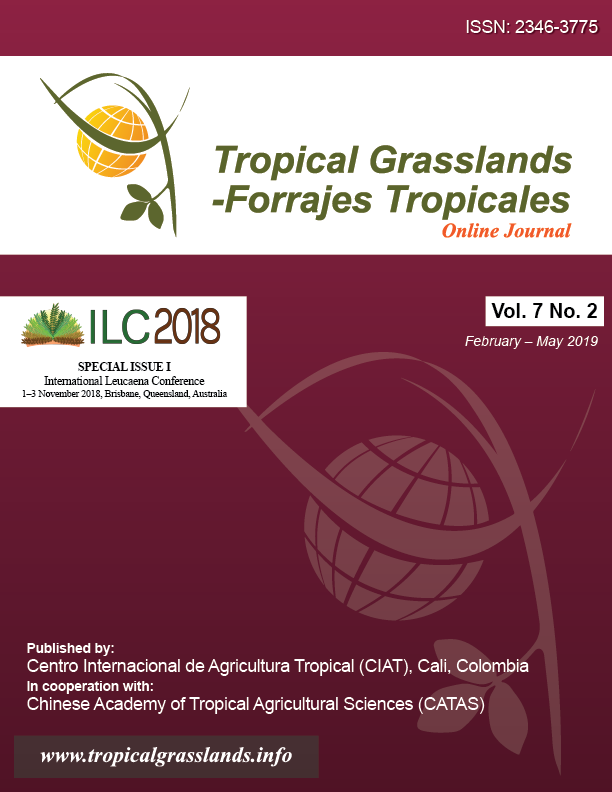 Downloads
Section
ILC2018 Session 2: Establishment and management of leucaena