Leucaena for paper industry in Gujarat, India: Case study
Abstract
Keynote paper presented at the International Leucaena Conference, 1‒3 November 2018, Brisbane, Queensland, Australia.
India is one of the major producers/consumers of paper and pulp products (3–4% of global share). Approximately one-fourth of industry raw material has come from wood-based plantations from the 1990s onwards. The greatest development challenge faced by the industry since that time is sourcing robust raw material from agroforestry on private lands. Following genetic improvement of leucaena (Leucaena leucocephala) and realization of its potential as a multiple-use species, it was introduced into India in 1980 under an international cooperation effort with support from the Swedish International Development Cooperation Agency (SIDA). It has since spread across the country as a panacea for rural needs of fuel wood, small timber and cattle forage.
The paper industry has found that it has potential as raw material for paper making. One of the largest Indian paper companies is JK Paper Ltd, which has an annual production capacity of 550,000 t/yr with 3 integrated pulp and paper plants located at Songadh (Gujarat), Rayagada (Orissa) and Kagaznagar (Telangana) producing writing and printing paper and virgin packaging boards.
This case study describes the leucaena farm forestry plantation program initiated by JK Paper Ltd, Unit CPM (Central Pulp Mills). The unit, under its agroforestry and farm forestry plantation approach, planted leucaena plantations in 2009-2010 in parts of Gujarat, Maharashtra and Madhya Pradesh States. To motivate farmers in the mill's catchment area, and to build confidence in on-farm plantations, exposure visits were arranged to Andhra Pradesh, where huge tracts of agricultural land were under leucaena plantations. As a result, to date, this unit has engaged >7,800 farmers who have established leucaena plantations covering an area of >18,400 ha.
A robust plantation R&D network addressed issues such as seed treatment, seed germination, rhizobial inoculation, geometry of plantations, agro-forestry models, selection and development of high production clones, establishment of clonal seed orchards, genetic improvement through mutation techniques and hybridization programs for wood quality improvement.
How to Cite
Khanna, N. K., Shukla, O. P., Gogate, M. G., & Narkhede, S. L. (2019). Leucaena for paper industry in Gujarat, India: Case study. Tropical Grasslands-Forrajes Tropicales, 7(2), 200–209. https://doi.org/10.17138/tgft(7)200-209
Downloads
Download data is not yet available.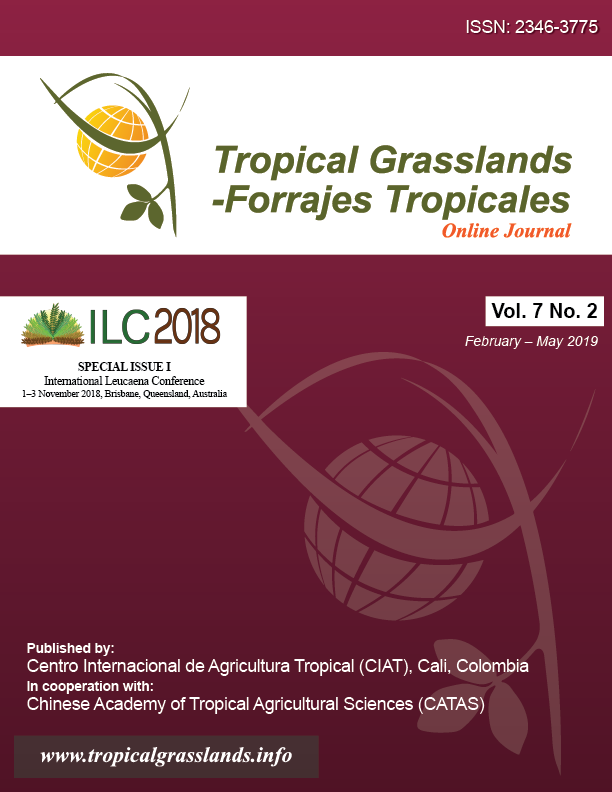 Downloads
Section
ILC2018 Session 4: Alternative uses of leucaena