Linking leucaena to carbon abatement opportunities in Australia
Abstract
Keynote paper presented at the International Leucaena Conference, 1‒3 November 2018, Brisbane, Queensland, Australia.
The Australian Government has committed to reducing its greenhouse gas (GHG) emissions by 26‒28% below 2005 levels by 2030. The Emissions Reduction Fund (ERF), a center-piece of Australia's climate change policies, provides incentives to reduce GHG emissions through economy-wide eligible activities, such as energy efficiency, waste management, revegetation, livestock management and savanna fire management. Emissions Reduction Fund methods define eligible activities, how to quantify abatement resulting from the activity and the required compliance measures.
The requirements for developing ERF methods that quantify GHG abatement estimates resulting from eligible activities are described. Leucaena planting is used as an example. For an ERF method to be made and maintained, the activity must meet all the legislative requirements. This includes meeting the offsets integrity standards and having regard to any adverse environmental, economic and social impacts.
How to Cite
King, K., & Burgess, R. (2019). Linking leucaena to carbon abatement opportunities in Australia. Tropical Grasslands-Forrajes Tropicales, 7(4), 273–279. https://doi.org/10.17138/tgft(7)273-279
Downloads
Download data is not yet available.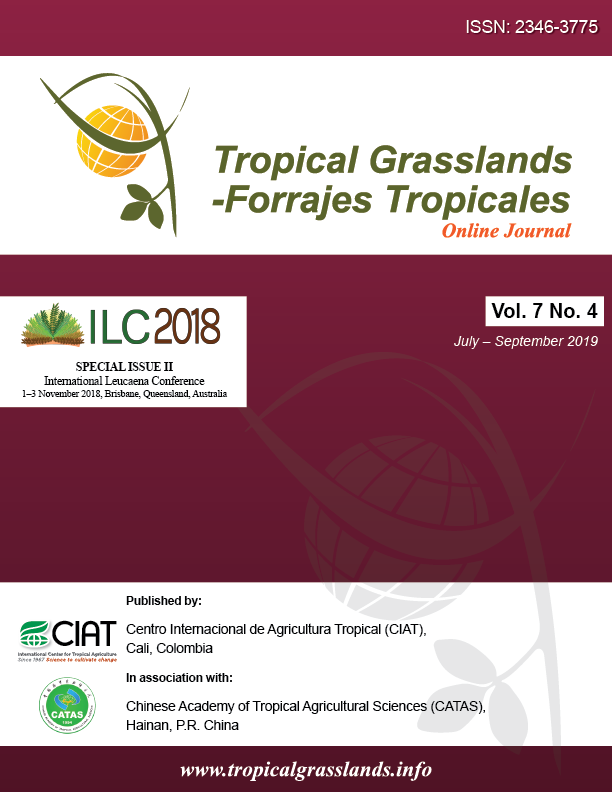 Downloads
Section
ILC2018 Session 5: Leucaena and the environment