Weed leucaena and its significance, implications and control
Abstract
Keynote paper presented at the International Leucaena Conference, 1‒3 November 2018, Brisbane, Queensland, Australia.
Leucaena (Leucaena leucocephala) is widely recognized in many countries as a commercially valuable plant, particularly when used as a nutritious fodder in subtropical and tropical regions. However, it is also considered an environmental weed in some countries due to its ability to form dense infestations in disturbed areas, where it is not proactively managed or grazed. These different perspectives have made leucaena a contentious species. Ideally, landholders and relevant jurisdictions in charge of invasive species need to work together to minimize its spread as a weed and manage existing infestations. To date, the response has been varied, ranging from no action through to some jurisdictions formally recognizing leucaena as an environmental weed within relevant legislation and applying requirements to minimize its impact. Between these extremes, there are initiatives such as an industry Code of Practice (i.e. The Leucaena Network in Australia), recommending that those growing leucaena adhere to certain principles and practices to minimize the risk of spread from their operations. The biology of weed leucaena (e.g. large seed production, relatively long-lived seed banks) and the situations in which it spreads (e.g. roadsides and riparian systems) pose management challenges to landholders and relevant jurisdictions. Adaptive management and experimental research are necessary to identify effective control strategies for a range of situations.
How to Cite
Campbell, S., Vogler, W., Brazier, D., Vitelli, J., & Brooks, S. (2019). Weed leucaena and its significance, implications and control. Tropical Grasslands-Forrajes Tropicales, 7(4), 280–289. https://doi.org/10.17138/tgft(7)280-289
Downloads
Download data is not yet available.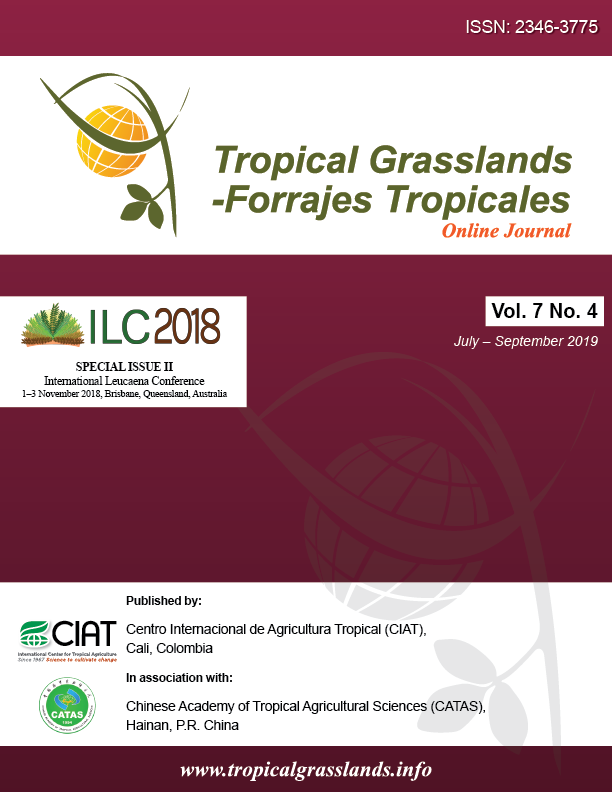 Downloads
Section
ILC2018 Session 5: Leucaena and the environment