A short review of leucaena as an invasive species in Hawaii
Abstract
Keynote paper presented at the International Leucaena Conference, 1‒3 November 2018, Brisbane, Queensland, Australia.
Leucaena leucocephala subsp. leucocephala was introduced to Hawaii after European settlement and spread widely for cattle fodder and fuelwood. As in many other tropical locations where it has been introduced, it has naturalized and spread in disturbed and drier habitats. While it is common in disturbed areas, it is much less common in intact native dry forests. It is resilient to wildfire and mammalian grazing, which conversely threaten the integrity of remnant native dryland forest. The successional trajectory of areas dominated by leucaena has not been well studied in Hawaii, but it is probable that other non-native rather than native species will replace it. As a result of its widespread distribution, especially on steep slopes, priority for its eradication or control is low. Current biocontrol options are limited in effectiveness. Control of leucaena can and should be given greater priority to protect native dryland forests and inhibit spread of seeds. Restoration of dryland habitats requires intensive, sustained efforts, usually involving volunteers. Combining cultural and/or use values in restoration projects holds promise for stimulating and sustaining community involvement.
How to Cite
Idol, T. (2019). A short review of leucaena as an invasive species in Hawaii. Tropical Grasslands-Forrajes Tropicales, 7(4), 290–294. https://doi.org/10.17138/tgft(7)290-294
Downloads
Download data is not yet available.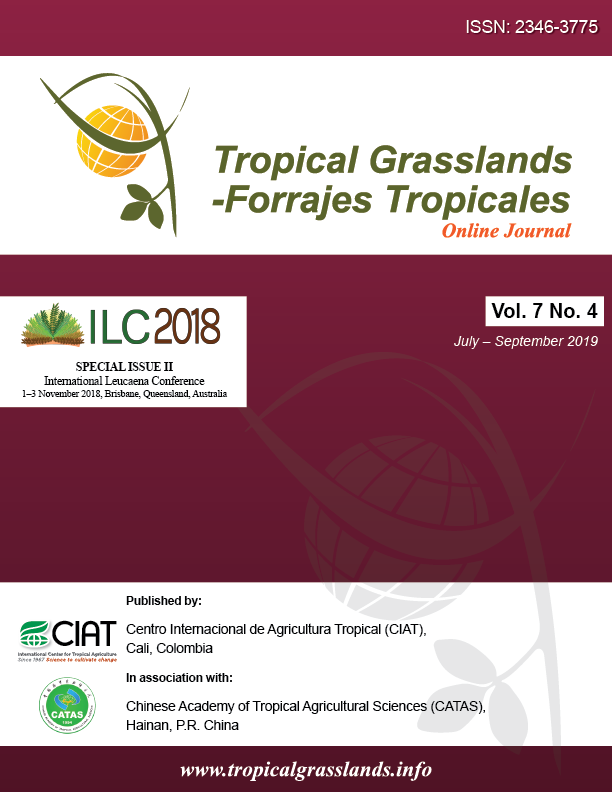 Downloads
Section
ILC2018 Session 5: Leucaena and the environment