Current and future adoption of leucaena-grass pastures in northern Australia
Abstract
Keynote paper presented at the International Leucaena Conference, 1‒3 November 2018, Brisbane, Queensland, Australia.
The leucaena-grass pastures and target markets for adoption project was commissioned by Meat & Livestock Australia (MLA) to examine the scope for further adoption of leucaena-grass pastures in northern Australia. Drawing upon stakeholder and producer interviews, focus groups, mapping of biophysical factors critical to growing leucaena and a review of existing literature, regional adoption profiles were developed using the ADOPT model. This work outlines the current and future potential for adoption of leucaena in northern Australia and recommends 5 interrelated strategic actions designed to support the ongoing adoption. These actions have been designed to address the complex technical, social and biophysical requirements for successful adoption and will require collaboration between investors, The Leucaena Network, producers, government agencies and the private sector to be effective.
How to Cite
Kenny, S., & Drysdale, G. (2019). Current and future adoption of leucaena-grass pastures in northern Australia. Tropical Grasslands-Forrajes Tropicales, 7(4), 315–330. https://doi.org/10.17138/tgft(7)315-330
Downloads
Download data is not yet available.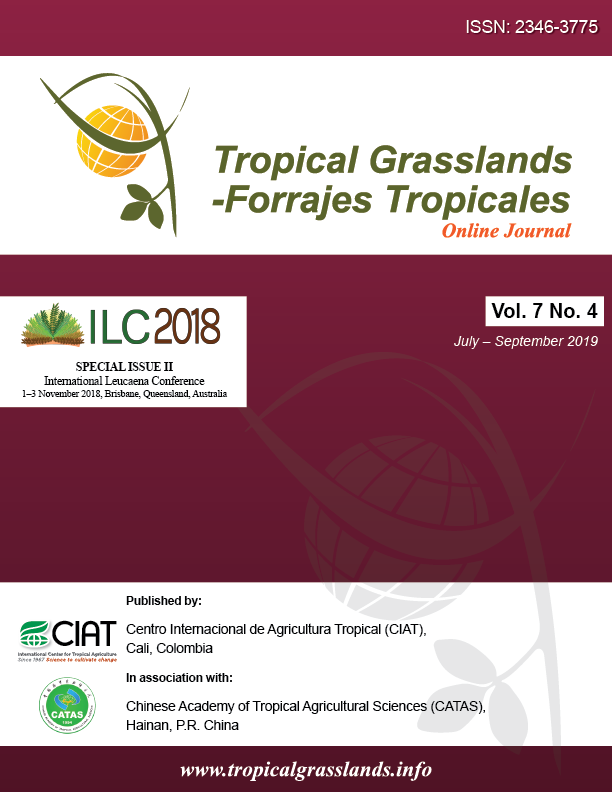 Downloads
Section
ILC2018 Session 6: Leucaena systems in Australia