Leucaena feeding systems in Argentina. I. Five decades of research and limitations for adoption
Abstract
Keynote paper presented at the International Leucaena Conference, 1‒3 November 2018, Brisbane, Queensland, Australia.
This review describes the history of research in Leucaena leucocephala (leucaena) feeding systems carried out by the National Institute of Agricultural Technology (INTA) over the last 5 decades and discusses the main limitations resulting in poor adoption in Argentina. Leucaena was introduced in the subtropical region of the north of the country in the late 1960s and early 1970s. Since then, INTA has conducted research to evaluate forage and animal productivity, leucaena accessions, rhizobial strains, contribution to soil carbon and total nitrogen and density effects on competition and other ecosystem interactions in silvopastoral systems. In spite of the convincing research results showing the excellent potential of leucaena to increase forage quality and animal production in suitable areas, there has been poor adoption of this forage tree legume on a broad scale.
How to Cite
Radrizzani, A., Pachas, N. A., Gándara, L., Goldfarb, C., Perticari, A., Lacorte, S., & Pueyo, D. (2019). Leucaena feeding systems in Argentina. I. Five decades of research and limitations for adoption. Tropical Grasslands-Forrajes Tropicales, 7(4), 381–388. https://doi.org/10.17138/tgft(7)381-388
Downloads
Download data is not yet available.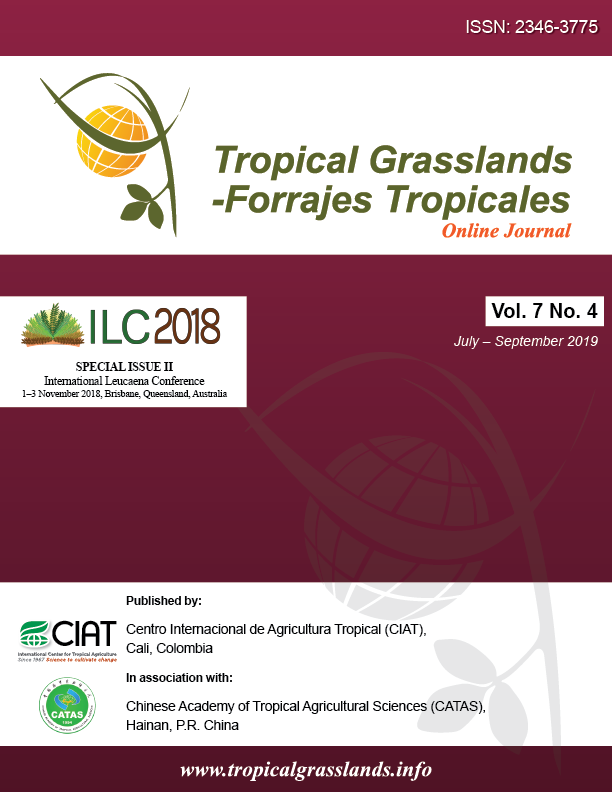 Downloads
Section
ILC2018 Session 7: Leucaena systems in tropical America