Tarramba leucaena: A success story for smallholder bull fattening in eastern Indonesia
Abstract
Keynote paper presented at the International Leucaena Conference, 1‒3 November 2018, Brisbane, Queensland, Australia.
Leucaena (Leucaena leucocephala) cv. Tarramba was first introduced to eastern Indonesia (East and West Nusa Tenggara Provinces) as part of an ACIAR project in 2001‒2003. Its superior value was recognized immediately as it: was preferred by cattle over local leucaena; was less affected by psyllids; provided better dry season growth; and produced poles suitable for construction. In on-farm Bali bull feeding demonstrations, Tarramba leucaena doubled weight gains compared with traditional practices, enabling the most progressive farmers to win local bull-fattening competitions. Owing to strong demand for seed, the East Nusa Tenggara Assessment Institute for Agriculture Technology, in collaboration with the Provincial Livestock Department, assisted smallholders to establish seed orchards to ensure that professionally produced and packaged Tarramba seed was available for commercial sale. By the end of the ACIAR involvement, approximately 2,000 kg of Tarramba seed had been distributed to farmers, in addition to farmer-to-farmer seed sales. Approximately 800,000 ha of land in East Nusa Tenggara Province is suitable for Tarramba leucaena so the potential for this legume to contribute to beef production in the region is huge. Tarramba is now contributing to forage development in other parts of Indonesia as well as in Timor-Leste.
How to Cite
Nulik, J., Kana Hau, D., Halliday, M. J., & Shelton, H. M. (2019). Tarramba leucaena: A success story for smallholder bull fattening in eastern Indonesia. Tropical Grasslands-Forrajes Tropicales, 7(4), 410–414. https://doi.org/10.17138/tgft(7)410-414
Downloads
Download data is not yet available.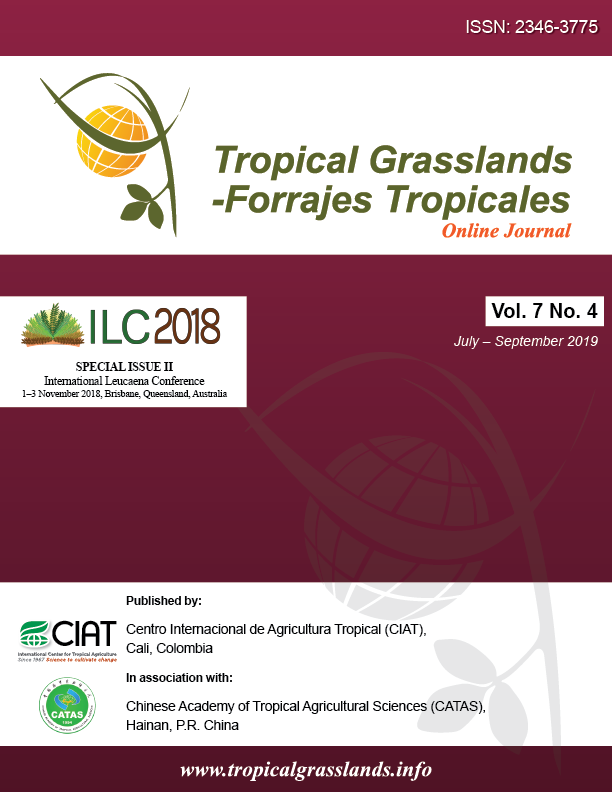 Downloads
Section
ILC2018 Session 8: Leucaena systems across Asia