Leucaena feeding systems in India
Abstract
Keynote paper presented at the International Leucaena Conference, 1‒3 November 2018, Brisbane, Queensland, Australia.
Since its introduction to India in 1976 Leucaena leucocephala ssp. glabrata has spread rapidly, especially in the last couple of decades, mainly due to its use as either firewood or pulpwood. Use of its foliage for feeding livestock has been mainly a by-product of this activity. The foliage is highly nutritious because it has high protein concentration and good palatability, and the tree can withstand repeated defoliation. Research carried out by Indian scientists on leucaena has focused on mainly agronomic management, agroforestry studies of mixed cropping systems, mimosine toxicity, germplasm testing and economic evaluation. Feeding leucaena has had a positive impact on the dairy industry in particular. It is rarely purchased for fodder and is usually poached by smallholders from existing plantations, most of which are established by animal rearers for their own purposes. More widespread use of leucaena for fodder could be achieved in India by introducing varieties with either reduced seed production or sterile ones, which can be easily propagated vegetatively. In addition, psyllid resistance, suitable mechanized harvesting methods and training livestock owners in proper management of leucaena trees should help in making this high quality fodder more popular in India.
How to Cite
Nimbkar, N. (2019). Leucaena feeding systems in India. Tropical Grasslands-Forrajes Tropicales, 7(4), 415–419. https://doi.org/10.17138/tgft(7)415-419
Downloads
Download data is not yet available.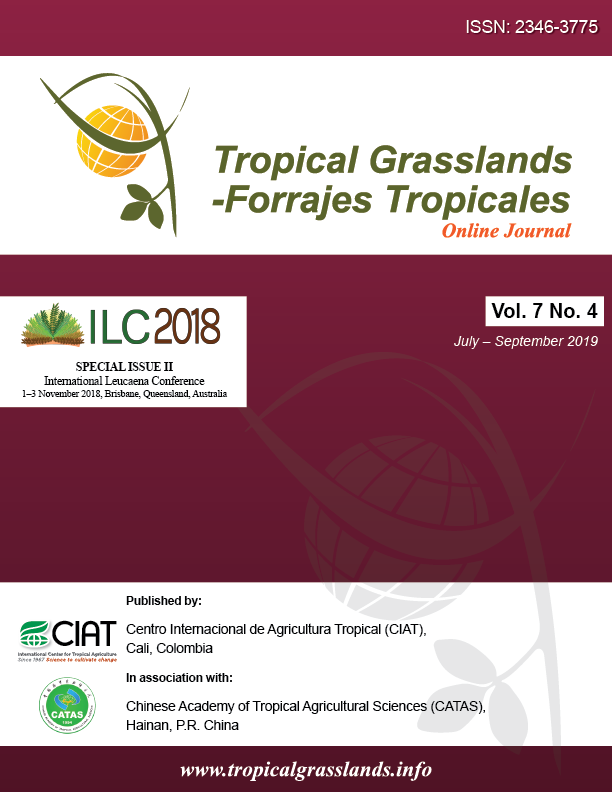 Downloads
Section
ILC2018 Session 8: Leucaena systems across Asia