Leucaena feeding systems in Myanmar
Abstract
Keynote paper presented at the International Leucaena Conference, 1‒3 November 2018, Brisbane, Queensland, Australia.
Agriculture and livestock provide the main source of income for farmers in Myanmar. As feeds with low nutritive value and digestibility are traditionally used for animal feed, alternative feed sources of better quality are needed to improve production levels. While concentrates can be used to improve the quality of diets, this leads to high feed costs. To solve this problem, researchers in Myanmar conducted trials to replace some concentrates with leucaena. The nutritive value of leucaena in Myanmar is relatively the same as found in other countries. Control of leucaena toxicity was also studied in Myanmar by isolating mimosine-degrading bacteria and managing the feeding of leucaena. While farmers in Myanmar are aware that leucaena can be fed to livestock and can be toxic to animals, they have limited knowledge of the real benefits of leucaena as a feed for animals. Research to demonstrate the potential of leucaena feeding to animals in Myanmar and efforts to promote establishment of leucaena stands are urgently needed.
How to Cite
Aung, A. (2019). Leucaena feeding systems in Myanmar. Tropical Grasslands-Forrajes Tropicales, 7(4), 423–427. https://doi.org/10.17138/tgft(7)423-427
Downloads
Download data is not yet available.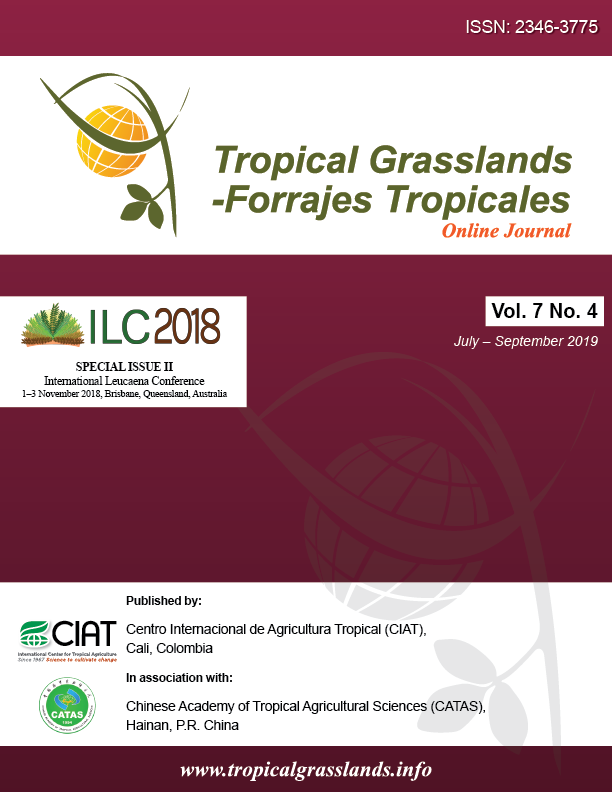 Downloads
Section
ILC2018 Session 8: Leucaena systems across Asia