Adoption of leucaena-based feeding systems in Sumbawa, eastern Indonesia and its impact on cattle productivity and farm profitability
Abstract
Keynote paper presented at the International Leucaena Conference, 1‒3 November 2018, Brisbane, Queensland, Australia.
Leucaena has been fed to cattle by the Balinese community in Sumbawa and West Sumbawa districts on Sumbawa Island since the 1980s. However, prior to 2011, this practice was not adopted by the local Sumbawanese farmers. Since then, a model leucaena-based cattle fattening system was developed in Sumbawa and West Sumbawa districts in a collaborative research project between the Assessment Institute for Agricultural Technology (BPTP), University of Mataram and The University of Queensland (UQ) funded by the Australian Centre for International Agricultural Research (ACIAR), followed by a scaling-out project involving collaboration between the University of Mataram and CSIRO (Applied Research and Innovation Systems in Agriculture - ARISA project) funded by DFAT (Department of Foreign Affairs and Trade) promoting public-private partnerships. Further promotion of leucaena-based fattening systems occurred in Dompu, Sumbawa, through a project with the University of Mataram and Massey University funded by the New Zealand Ministry of Foreign Affairs and Trade (MFAT). By the end of October 2018, more than 2,500 farmers on Sumbawa Island were practicing leucaena-based cattle fattening. The main drivers of adoption of cattle fattening with leucaena were: (1) The high growth rates achieved (0.4–0.6 kg/d for bulls fed 100% leucaena and 0.66 kg/d when maize grain was added to the leucaena basal diet) compared with 0.16 kg/d for the traditional system, combined with high profitability; (2) the needs of farmers being met in terms of relevance and cultural appropriateness; (3) field extension staff being well trained and mentored, and respected by the farmers; (4) the local government being highly supportive of leucaena-based cattle fattening; and (5) additional benefits being increased dressing percentage and high carcass quality. The rapid increase in the use of leucaena for cattle fattening in eastern Indonesia is expected to have a significant positive impact on household incomes as well as on regional economic growth.
How to Cite
Dahlanuddin, .-., Panjaitan, T., Waldron, S., Halliday, M. J., Ash, A., Morris, S. T., & Shelton, H. M. (2019). Adoption of leucaena-based feeding systems in Sumbawa, eastern Indonesia and its impact on cattle productivity and farm profitability. Tropical Grasslands-Forrajes Tropicales, 7(4), 428–436. https://doi.org/10.17138/tgft(7)428-436
Downloads
Download data is not yet available.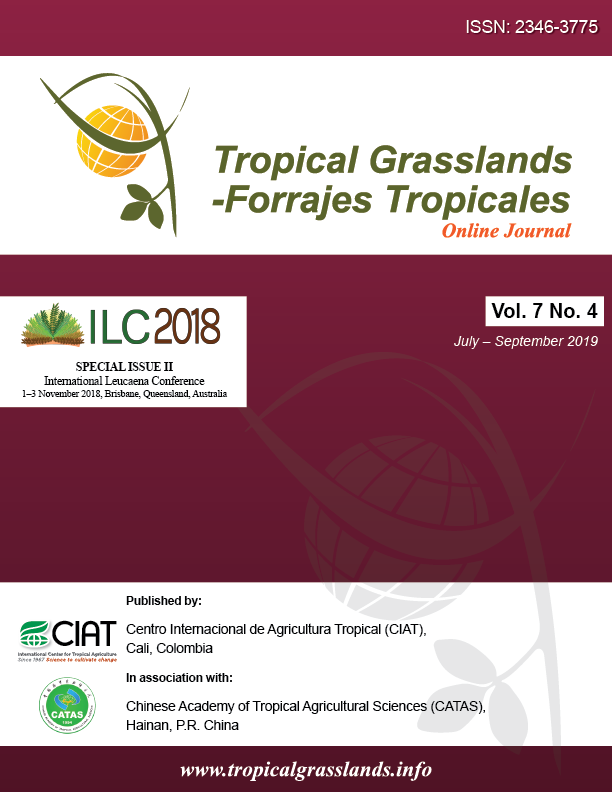 Downloads
Section
ILC2018 Session 8: Leucaena systems across Asia