Comparison of forage production and nutritive value of 10 <i>Grona</i> spp. accessions in Danzhou, Hainan, China
Abstract
The demand for high-quality forages is increasing in tropical regions, and could be filled with legume species of the genus Grona, which have good nutritive value. In this study, a comparison of the forage production and nutritive value of 10 accessions of Grona spp. was carried out in the field at Danzhou, Hainan from 2016 to 2018. Yield, plant height, survival rate, leaf:stem ratio and concentrations of crude protein, crude fiber, crude fat (ether extract), nitrogen free extract, crude ash, calcium and phosphorus were measured. Results showed that Grona strigillosa (syn. Desmodium strigillosum) cv. Reyan No. 27 and G. heterocarpa subsp. ovalifolia (syn. Desmodium ovalifolium) cv. Maquenque displayed the best performance, owing to their 261.3% and 235.6% higher dry matter yields, respectively, compared with the Control germplasm, G. heterocarpa subsp. ovalifolia cv. Reyan No. 16 in 2018. Cultivar Maquenque had a higher survival rate than the Control (P<0.05). Regarding nutritive value, cv. Reyan No. 27 exhibited higher crude fat and crude fiber but lower Ca concentrations than the Control (P<0.05). Based on PCA ranking, we concluded that cvv. Maquenque and Reyan No. 27 could be used as suitable candidate materials for livestock production in tropical regions of China. Further studies on their tannin concentrations and their acceptability by animals are needed before practical recommendations can be made.
How to Cite
Yan, L., Dong, R., Wang, W., Douxchamps, S., Atieno, M., Liu, G., & Liu, Y. (2021). Comparison of forage production and nutritive value of 10 <i>Grona</i> spp. accessions in Danzhou, Hainan, China. Tropical Grasslands-Forrajes Tropicales, 9(1), 81–88. https://doi.org/10.17138/tgft(9)81-88
Downloads
Download data is not yet available.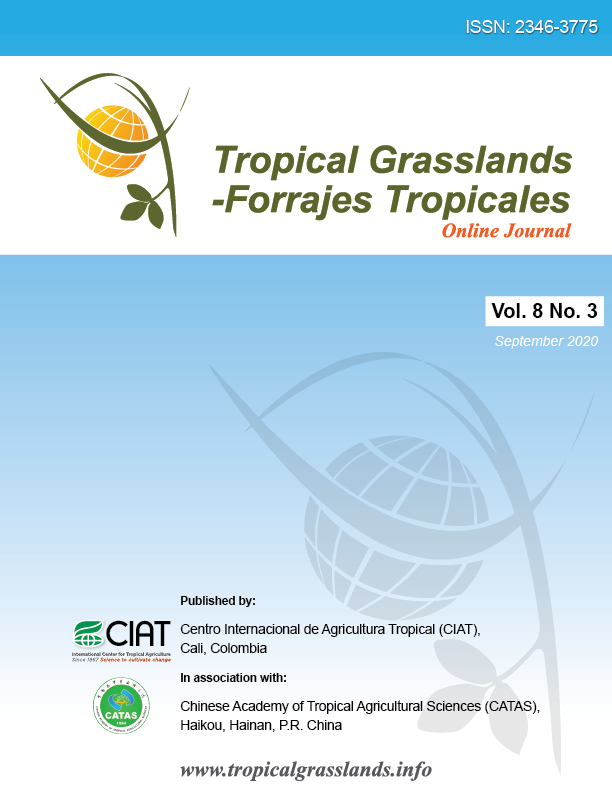 Downloads