Effective microorganisms: Microbial diversity and its effect on the growth of palisade grass
Abstract
Effective microorganisms (EM) are inoculants used by farmers on various crops, and the actual efficiency of EM and their composition have been widely discussed. The objective of this study was to analyze the profile of the microbial community in soils after applying 3 EM inoculants from different origins with and without manure and to determine the impacts on growth and chemical composition of Urochloa brizantha (palisade grass). We showed, by PCR-DGGE technique, that the community structure of the fungi and bacteria in soil differed with EMs from different sources and that adding manure to the soil also significantly altered the bacterial and fungal profile. We also found that adding manure to soil resulted in a pronounced increase in both dry matter yield and crude protein concentration in palisade grass, while benefits of applying EM were largely restricted to a farmer-produced inoculant, where CP% was increased and NDF% was reduced when applied along with manure.
How to Cite
Santos, L. F. dos, Silva, M. de C. S., Lana, R. de P., Diogo, N. V., Kasuya, M. C. M., & Ribeiro, K. G. (2020). Effective microorganisms: Microbial diversity and its effect on the growth of palisade grass. Tropical Grasslands-Forrajes Tropicales, 8(3), 177–186. https://doi.org/10.17138/tgft(8)177-186
Downloads
Download data is not yet available.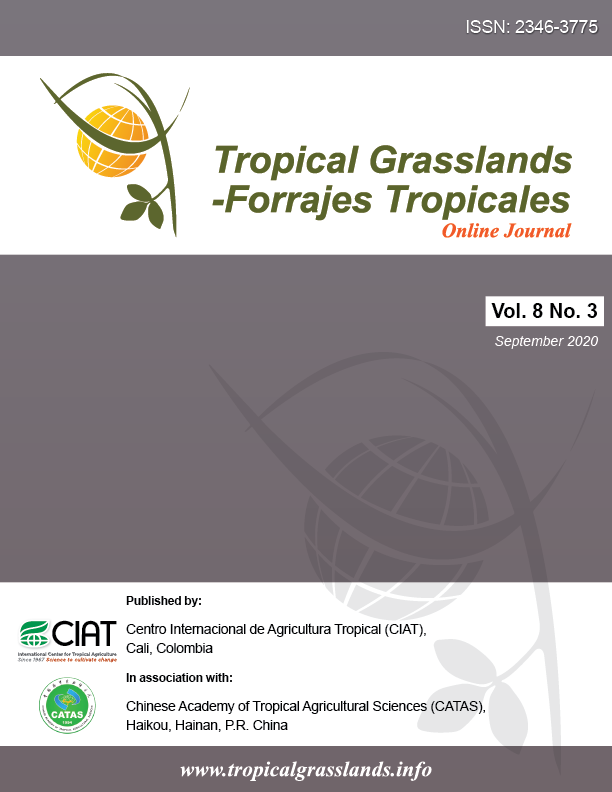 Downloads