Varietal differences in yield and nutritional quality of alfalfa (<i>Medicago sativa</i>) accessions during 20 months after planting in Ethiopia
Abstract
Feed supply in terms of quality and quantity plays an important role in livestock production and productivity. Here we report on varietal differences in yield and nutritional quality among 9 alfalfa accessions over 7 harvests following planting in Ethiopia. Experimental design was a randomized complete block with 3 replications at Chano Mille, Southern Ethiopia on a sandy loam soil where mean annual rainfall is 544 mm. Days to harvesting, plant height, dry matter yield, seed yield and the concentrations of the nutritional quality parameters crude protein (CP), neutral detergent fiber, acid detergent fiber, acid detergent lignin, hemicellulose and cellulose plus in vitro dry matter digestibility (IVDMD) and relative feed value (RFV) were assessed to rank the accessions. There were significant (P<0.001) differences between accessions and harvests in plant height, dry matter yield and seed yield. Accession ILRI_7323A performed best in all agro-morphological aspects. All accessions, except 1, produced forage with CP in excess of 30% and IVDMD greater than 80% with RFV greater than 150 at 50% flowering, indicating the high quality of forage produced. Further studies to assess the longevity of stands of the various accessions seem warranted along with studies in higher rainfall environments or under irrigation.
How to Cite
Atumo, T., & Jones, C. S. (2021). Varietal differences in yield and nutritional quality of alfalfa (<i>Medicago sativa</i>) accessions during 20 months after planting in Ethiopia. Tropical Grasslands-Forrajes Tropicales, 9(1), 89–96. https://doi.org/10.17138/tgft(9)89-96
Downloads
Download data is not yet available.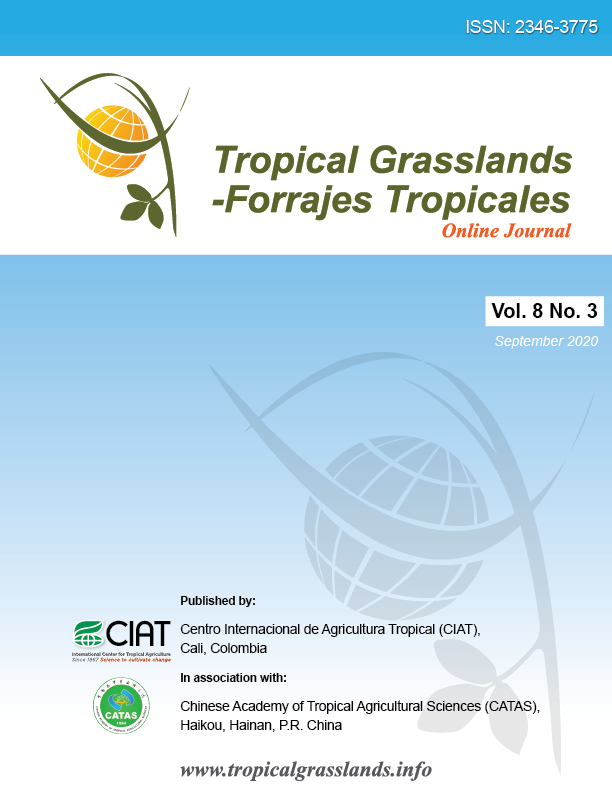 Downloads