Fermentation quality and aerobic stability of Napier grass ensiled with citric acid residue and lactic acid bacteria
Abstract
This study was conducted to investigate the effects of adding citric acid residue (CAR) with or without lactic acid bacteria (LAB) to Napier grass (Cenchrus purpureus; syn. Pennisetum purpureum) cv. Sumu No. 2 at ensiling on the fermentation quality and aerobic stability of the resulting silage. Treatments included: Control (Napier grass forage without additives); and Napier grass inoculated with lactic acid bacteria (Lactobacillus plantarum and L. buchneri) at 1 × 106 cfu/gfresh weight (FW) forage (LAB) or 36 g citric acid residue/kg FW forage (CAR) or a mixture of CAR and LAB (CL). Forty-five days after ensiling the silages were tested for chemical and microbial composition and an aerobic stability test was conducted. The addition of CAR with or without LAB increased the DM and lactic acid concentrations in silage and decreased pH plus acetic acid, ammonia nitrogen (NH3-N), neutral detergent fiber and cellulose concentrations relative to Control. The pH in LAB silage was lower than in Control, while lactic acid concentration was higher. During the first 2 days of aerobic exposure, all additives increased the water-soluble carbohydrate (WSC) and lactic acid concentrations and decreased pH plus NH3-N and acetic acid concentrations. Moreover, CL silages had the highest WSC and the lowest NH3-N and acetic acid concentrations during aerobic exposure. However, all additives failed to improve the aerobic stability of the silage. While CAR with or without LAB inoculant improved the fermentation quality of silage made from Napier grass, more studies are warranted to identify additives which can improve aerobic stability of the silage after opening.
How to Cite
Tao, X., Ji, C., Chen, S., Zhao, J., Wang, S., Li, J., Sun, F., & Shao, T. (2021). Fermentation quality and aerobic stability of Napier grass ensiled with citric acid residue and lactic acid bacteria. Tropical Grasslands-Forrajes Tropicales, 9(1), 52–59. https://doi.org/10.17138/tgft(9)52-59
Downloads
Download data is not yet available.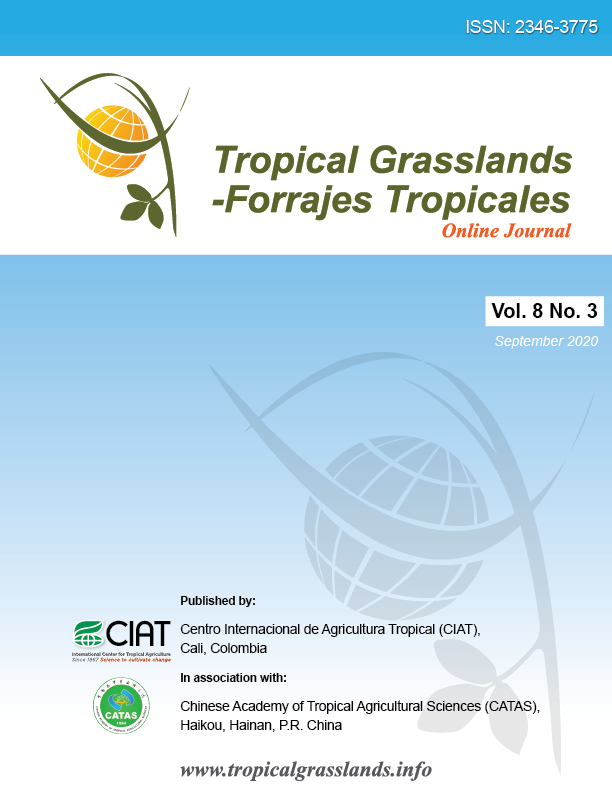 Downloads