Land use effects on soil macrofauna communities in a mountainous region of southwest Guizhou, China
Abstract
An experiment to compare the effects of land use types on soil and macrofauna characteristics was conducted in a mountainous region of southwestern China. Soil physical and chemical properties and soil macrofauna were investigated in four land use types: natural grassland, mixed pasture of Dactylis glomerata L. and Trifolium repens L., mixed pasture of Holcus lanatus L. and Trifolium repens L., and cropland planted with annual Brassica napus L. and Zea mays L. rotation. The results showed that natural grassland, mixed pasture and cropping increased soil pH (23.0%–36.0%), soil organic matter (69.1%–73.9%, except the cropland with a decrease of 18.9%), total nitrogen (346.2%–738.5%), available nitrogen (389.9%–482.7%), available phosphorus (61.9%–303.6%) and available potassium (326.2%–481.4%). The taxonomic richness of macrofaunal communities was lower in the mixed pasture and cropped land than in natural grassland, with the Shannon's index and Menhinick index being negatively related to soil organic carbon content. The mixed pasture maintained the abundance and diversity of soil macrofauna. The short-term cessation of utilization and management facilitated the restoration of soil macrofaunal communities. This study shows that pasture/grazing or leaving fallow for a year after cropping were able to better sustain macrofaunal communities in this mountainous region.
How to Cite
Yang, X., Ding, L., Liu, J., Li, L., Chen, J., Liu, J., & Wang, P. (2022). Land use effects on soil macrofauna communities in a mountainous region of southwest Guizhou, China. Tropical Grasslands-Forrajes Tropicales, 10(2), 89–97. https://doi.org/10.17138/tgft(10)89-97
Downloads
Download data is not yet available.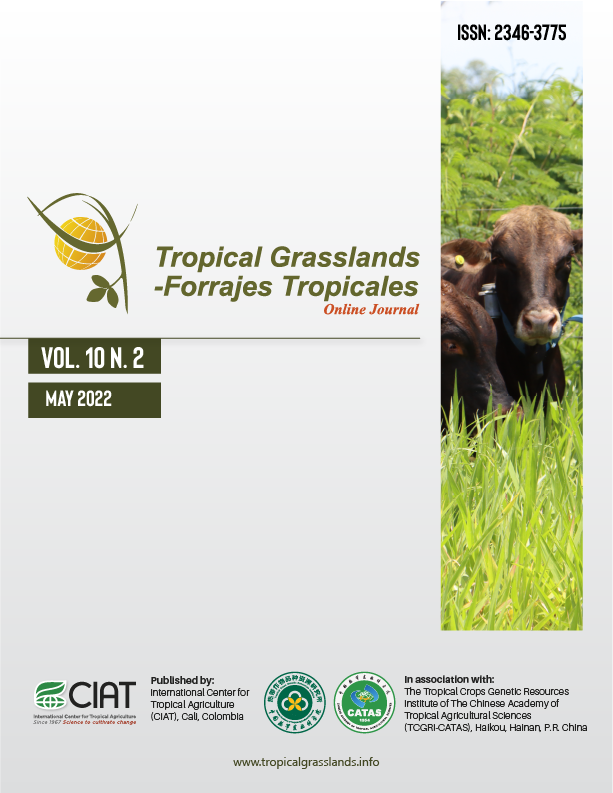 Downloads