Nutritional and biomass evaluation of a Megathyrsus maximus collection in a dry tropical climate in Colombia
Abstract
Agronomic and nutritional parameters of a set of 28 accessions of Megathyrsus maximus established in Colombia during the rainy season were evaluated to identify accessions with differences in nutritional quality and characterize germplasm of M. maximus. ANOVA and multivariate analysis showed differences among accessions. Agronomic variables such as plant height, dry matter yield and green fresh weight were not correlated with nutritional variables. Flowering affected nutritional quality (neutral detergent fiber, acid detergent fiber and relative feed value). Flowering, fiber content, digestibility and crude protein content had the most influence on forage quality of M. maximus. The integral evaluation of biomass and nutritional parameters showed that the set of 28 M. maximus accessions contained 2 accessions with high nutritional quality and competitive biomass production. Heterogeneity of the collection in nutritional and agronomic assessments supports plant-breeding and offers alternatives for cattle producers in the tropics.
References
Akdeniz H; Hosaflioğlu I; Koç A; Hossain A; Islam MS; Iqbal MA; Imtiaz H; Gharib H; El Sabagh A. 2019. Evaluation of herbage yield and nutritive value of eight forage crop species. Applied Ecology and Environmental Research 17(3):5571–5581. doi: 10.15666/aeer/1703_55715581
AOAC. 2005. Official Methods of Analysis. Dumas method 990.3. 15th Edn.
Barahona-Rosales R. 1999. Condensed tannins in tropical forage legumes: Their characterisation and study of their nutritional impact from the standpoint of structure-activity relationships. Ph.D. Thesis. University of Reading, Reading, Berkshire, United Kingdom. bit.ly/3vInSNQ
Barahona-Rosales R; Sánchez-Pinzón S. 2005. Physical and chemical limitations to the digestibility of tropical forages and strategies to overcome them. Revista Corpoica 6(1):69–82. (In Spanish) doi: 10.21930/rcta.vol6_num1_art:39
Barahona-Rosales R; Sánchez MS; Cuartas C; Gaviria X; Molina I; Murgueitio E; Chará J. 2014. Contribución de la Leucaena leucocephala Lam (de Wit) a la oferta y digestibilidad de nutrientes y las emisiones de metano entérico en bovinos pastoreando en sistemas silvopastoriles intensivos. In: Premio Nacional de Ganadería José Raimundo Sojo Zambrano, modalidad Investigación Científica. Revista Carta Fedegán Colombia, 140:66–69. bit.ly/3IrIzoL
Bezabih M; Pellikaan WF; Tolera A; Khan NA; Hendriks WH. 2014. Nutritional status of cattle grazing natural pasture in the Mid Rift Valley grasslands of Ethiopia measured using plant cuticular hydrocarbons and their isotope enrichment. Livestock Science 161:41–52. doi: 10.1016/j.livsci.2013.12.016
Bhatta R; Malik PK; Sejian V. 2017. Enteric methane emission and reduction strategies in sheep. In: Sejian V, Bhatta R, Gaughan J, Malik P, Naqvi S, Lal R, eds. Sheep Production Adapting to Climate Change. Springer, Singapore. p. 291–305. doi: 10.1007/978-981-10-4714-5_13
Cardoso AS; Barbero RP; Romanzini EP; Teobaldo RW; Ongaratto F; Fernandes MHMR; Ruggieri AC; Reis RA. 2020. Intensification: A key strategy to achieve great animal and environmental beef cattle production sustainability in Brachiaria grasslands. Sustainability 12(16):6656. doi: 10.3390/su12166656
Carvajal-Tapia JI; Mazabel J; Vivas-Quila NJ. 2021a. Classification of Megathyrsus maximus accessions grown in the Colombian dry tropical forest by nutritional assessment during contrasting seasons. Frontiers in Sustainable Food Systems 5: 684747. doi: 10.3389/FSUFS.2021.684747
Carvajal-Tapia JI; Morales-Velasco S; Villegas DM; Arango J; Vivas-Quila NJ. 2021b. Biological nitrification inhibition and forage productivity of Megathyrsus maximus in Colombian dry tropics. Plant, Soil and Environment 67(5):270–277. doi: 10.17221/445/2020-pse
Carvajal-Tapia JI; Vivas-Quila NJ; Barahona-Rosales R; Sandoval-Burbano KM; Castiblanco V. 2022. Multivariate and multi-harvesting trial for agronomic traits in the genetic resources of Megathyrsus maximus. Agronomy Journal 114(6):3055–3067. doi: 10.1002/agj2.21169
Close W; Menke KH. 1986. Selected Topics in Animal Nutrition (2nd Edn).
Costa CS; Rodrigues RC; Araújo RA de; Cândido MJD; Santos FNS; Rodrigues MM; Costa FO; Silva IR da; Alves AA; Lima NM de. 2017. Agronomic and nutritional characteristics of Massai grass subjected to deferred grazing and nitrogen fertilization. Semina: Ciências Agrárias 38(3):1617–1624. bit.ly/3Gfad5G
Escobar LO; Mejía FL; Vasquez H; Bernal W; Álvarez WY. 2020. Botanical composition and nutritional evaluation of pastures in different silvopastoral systems in Molinopampa, Amazonas Region, Peru. Livestock Research for Rural Development 32(6). (In Spanish). bit.ly/3XfGG2V
Espinoza-Canales A; Gutiérrez-Bañuelos H; Sánchez-Gutiérrez R; Muro-Reyes A; Gutiérrez-Piña F; Corral-Luna A. 2017. Forage quality of canola (Brassica napus L.) at early and late bloom under rainfed conditions in Zacatecas, Mexico. Revista Mexicana de Ciencia Pecuaria 8(3):243–248. (In Spanish). doi: 10.22319/rmcp.v8i3.4501
FEDNA. 2014. Fundación Española para el Desarrollo y Nutrición Animal. bit.ly/3GmVDtc
Ferner J; Linstädter A; Südekum KH; Schmidtlein S. 2015. Spectral indicators of forage quality in West Africa's tropical savannas. International Journal of Applied Earth Observation and Geoinformation 41(September 2015):99–106. doi: 10.1016/j.jag.2015.04.019
Garcia E; Siles P; Eash L; Van der Hoek R; Kearney SP; Smukler SM; Fonte SJ. 2020. Participatory evaluation of improved grasses and forage legumes for smallholder livestock production in Central America. Experimental Agriculture 55(5):776–792. doi: 10.1017/S0014479718000364
Gerber PJ; Mottet A; Opio CI; Falcucci A; Teillard F. 2015. Environmental impacts of beef production: Review of challenges and perspectives for durability. Meat Science 109:2–12. doi: 10.1016/j.meatsci.2015.05.013
Jank L; Valle CB; Resende RMS. 2011. Breeding tropical forages. Crop Breeding and Applied Biotechnology 11:27–34. doi: 10.1590/S1984-70332011000500005
Jayanegara A; Ridla M; Nahrowi; Laconi EB. 2019. Estimation and validation of total digestible nutrient values of forage and concentrate feedstuffs. IOP Conference Series: Materials Science and Engineering 546(4):042016. doi: 10.1088/1757-899X/546/4/042016
Jeranyama P; Garcia A. 2004. Understanding relative feed value (RFV) and relative forage quality (RFQ). SDSU Extension Extra Archives 352. bit.ly/3jMPD58
Kassambara A. 2019. ggcorrplot: Visualization of a Correlation Matrix using 'ggplot2'. R package version 0.1.3. bit.ly/3QjqUlk
Keba HT; Madakadze IC; Angassa A; Hassen A. 2013. Nutritive value of grasses in semi-arid rangelands of Ethiopia: Local experience based herbage preference evaluation versus laboratory analysis. Asian-Australasian Journal of Animal Sciences 26(3):366–377. doi: 10.5713/ajas.2012.12551
Khan N; Rahman US; Cone JW. 2020. Chemical composition, ruminal degradation kinetics and methane production (in vitro) potential of local and exotic grass species grown in Peshawar. Pakistan Journal of Botany 52(1):161–166. bit.ly/3DaSyLM
Lê S; Josse J; Husson F. 2008. FactoMineR: An R Package for Multivariate Analysis. Journal of Statistical Software 25(1):1–18. doi: 10.18637/jss.v025.i01
Lemaire G; Belanger G. 2020. Allometries in plants as drivers of forage nutritive value: A review. Agriculture 10(1):5. doi: 10.3390/agriculture10010005
Malaviya DR; Baig MJ; Kumar D; Kaushal P. 2020. Effects of shade on Guinea grass genotypes: Megathyrsus maximus (Poales: Poaceae). Revista de Biología Tropical 68(2):563–572. doi: 10.15517/rbt.v68i2.38362
Matínez-Mamian CA; Vivas-Quila NJ; Morales-Velasco S. 2020. Agronomic response of forage mixtures in a silvopastoral system in the Colombian dry tropics. Dyna 87(213):80–84. doi: 10.15446/dyna.v87n213.79900
Mazabel J; Worthington M; Castiblanco V; Peters M; Arango J. 2020. Using near infrared reflectance spectroscopy for estimating nutritional quality of Brachiaria humidicola in breeding selections. Agrosystems Geosciences & Environment 3(1): e20070. doi: 10.1002/agg2.20070
Musco N; Koura IB; Tudisco R; Awadjihè G; Adjolohoun S; Cutrignelli MI; Mollica MP; Houinato M; Infascelli F; Calabrò S. 2016. Nutritional characteristics of forage grown in south of Benin. Asian-Australasian Journal of Animal Sciences 29(1):51–61. doi: 10.5713/ajas.15.0200
Mwendia SW; Yunusa IAM; Sindel BM; Whalley RDB; Kariuki IW. 2017. Assessment of napier grass accessions in lowland and highland tropical environments in East Africa: productivity and forage quality. Experimental Agriculture 53(1):27–43. doi: 10.1017/S001447971600003X
Mwendia SW; Ohmstedt U; Nyakundi F; Notenbaert A; Peters M. 2022. Does harvesting Urochloa and Megathyrsus forages at short intervals confer an advantage on cumulative dry matter yields and quality? Journal of the Science of Food and Agriculture 102(2):750–756. doi: 10.1002/JSFA.11407
Paciullo DSC; Gomide CAM; Castro CRT; Maurício RM; Fernandes PB; Morenz MJF. 2017. Morphogenesis, biomass and nutritive value of Panicum maximum under different shade levels and fertilizer nitrogen rates. Grass and Forage Science 72(3):590–600. doi: 10.1111/gfs.12264
Pell AN; Schofield P. 1993. Computerized monitoring of gas production to measure forage digestion in vitro. Journal of Dairy Science 76(4):1063–1073. doi: 10.3168/jds.S0022-0302(93)77435-4
Perotti E; Huguenin-Elie O; Meisser M; Dubois S; Probo M; Mariotte P. 2021. Climatic soil and vegetation drivers of forage yield and quality differ across the first three growth cycles of intensively managed permanent grasslands. European Journal of Agronomy 122:126194. doi: 10.1016/j.eja.2020.126194
Rivera-Herrera JE; Molina-Botero I; Chará-Orozco J; Murgueitio-Restrepo E; Barahona-Rosales R. 2017. Sistemas silvopastoriles intensivos con Leucaena leucocephala (Lam.) de Wit: alternativa productiva en el trópico ante el cambio climático. Pastos y Forrajes 40(3):171–183. bit.ly/3ZgrFzC
Schaub S; Finger R; Leiber F; Probst S; Kreuzer M; Weigelt A; Buchmann N; Scherer-Lorenzen M. 2020. Plant diversity effects on forage quality yield and revenues of semi-natural grasslands. Nature Communications 11:768. doi: 10.1038/s41467-020-14541-4
Seepaul R; Macoon B; Reddy KR; Evans WB. 2016. First harvest timing and nitrogen application rate effects on chemical composition and ethanol yield of switchgrass. Crop Forage and Turfgrass Management 2(1):1–16. doi: 10.2134/cftm2015.0163
Seydosoglu S; Bengisu G. 2019. Effects of different mixture ratios and harvest periods on grass quality of triticale (x Triticosecale wittmack) forage pea (Pisum sativum L.) intercrop. Applied Ecology and Environmental Research 17(6):13263–13271. doi: 10.15666/aeer/1706_1326313271
Toledo J; Schultze-Kraft R. 1982. Metodología para la evaluación agronómica de pastos tropicales. In: Toledo J, ed. Manual para la evaluación agronómica Red Internacional de Evaluación de Pastos Tropicales. Serie CIAT 07SG-1(82) 155 p. handle.net/10568/54148
Uzun F. 2010. Changes in hay yield and quality of bulbous barley at different phenological stages. Turkish Journal of Agriculture and Forestry 34(1):1–9. doi: 10.3906/tar-0903-27
Van Soest PJ; Robertson JB; Lewis BA. 1991. Methods for dietary fiber, neutral detergent fiber and nonstarch polysaccharides in relation to animal nutrition. Journal of Dairy Science 74(10):3583–3597. doi: 10.3168/jds.S0022-0302(91)78551-2
VDLUFA. 2007. Verband Deutscher Landwirtschaftlicher Untersuchungs‐ und Forschungsanstalten (VDLUFA). In: Handbuch der Landwirtschaftlichen Versuchs‐ und Untersuchungsmethodik VDLUFA Methodenbuch. bit.ly/3X0Zljc
Villegas D; Arevalo A; Nuñez J; Mazabel J; Subbarao G; Rao I; de Vega J; Arango J. 2020. Biological nitrification inhibition (BNI): Phenotyping of a core germplasm collection of the tropical forage grass Megathyrsus maximus under greenhouse conditions. Frontiers in Plant Science 11:820. doi: 10.3389/fpls.2020.00820
Vranić M; Knežević M; Perčulija G; Bošnjak K; Leto J. 2009. Intake, digestibility in vivo, N utilization and in sacco dry matter degradability of grass silage harvested at three stages of maturity. Asian-Australasian Journal of Animal Sciences 22(2):225–231. doi: 10.5713/ajas.2009.80118
Wickham H. 2016. ggplot2: Elegant Graphics for Data Analysis. Springer-Verlag New York. ISBN: 978-0-387-98141-3
How to Cite
Carvajal-Tapia, J. I., Barahona-Rosales, R., Castro-Montoya, J., Arango, J., & Vivas-Quila, N. J. (2023). Nutritional and biomass evaluation of a Megathyrsus maximus collection in a dry tropical climate in Colombia. Tropical Grasslands-Forrajes Tropicales, 11(1), 11–21. https://doi.org/10.17138/tgft(11)11-21
Downloads
Download data is not yet available.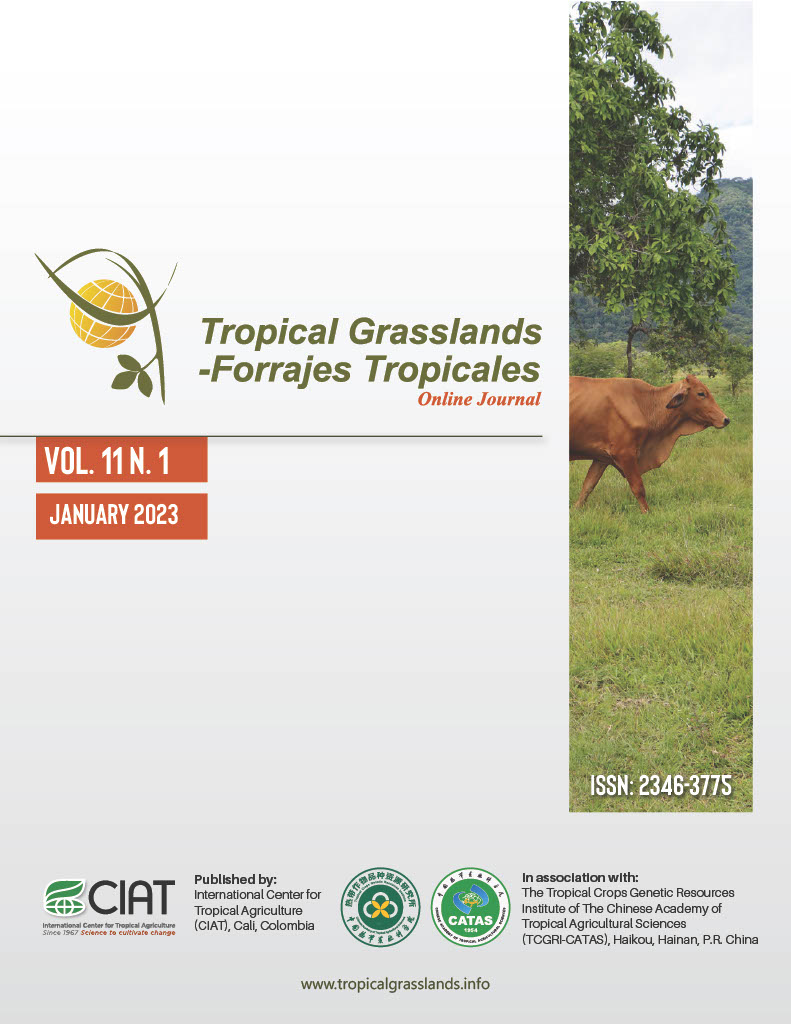 Downloads
License
Copyright (c) 2023 Tropical Grasslands-Forrajes Tropicales
This work is licensed under a Creative Commons Attribution 4.0 International License.