Relative palatability of woody forage species from the tropical dry forest using a cafeteria method
Abstract
The relative palatability of woody perennials´ fodder has been proposed as the selection criteria for species to be integrated in livestock systems. For that purpose, 20 species with different nutritional characteristics, that grow in the tropical dry forest of Colombia, were evaluated. The woody perennials were managed under pruning, in plots established at the Agrosavia´s Nataima Research Center. Fodder of those species was offered to five mature Blanco Orejinegro (BON) cattle for a total of 19 days, using a cafeteria method with each species exposed to animals for only 3 minutes. The assignment of species was in pairs, with a total of 190 pairs, resulting from the combinations of 20 species taking two at the same time, without replication. The results of the palatability trials identified nine species with very high and high palatability, which ordered in a descending manner were: Albizia niopoides, Leucaena leucocephala, Erythrina fusca, Guazuma ulmifolia, Gliricidia sepium, Tithonia diversifolia, Clitoria fairchildiana, Spondias purpurea and Spondias mombin. The pair of species that showed the highest palatability was A. niopoides-L. leucocephala; and the species frequently present in combinations with high intake was A. niopoides. It is concluded that there are several native species with high relative palatability, whose forage potential is unknown by technicians and ranchers, and the high palatability of some species already known was confirmed.
References
Barahona R, Lascano CE, Narvaez N, Owen E, Morris P, Theodorou MK. 2003. In vitro degradability of mature and immature leaves of tropical forage legumes differing in condensed tannin and non‐starch polysaccharide content and composition. Journal of the Science of Food and Agriculture 83(12):1256–1266. doi: 10.1002/jsfa.1534
Baumont R; Prache S; Meuret M; Morand-Fehr P. 2000. How forage characteristics influence behavior and intake in small ruminants: a review. Livestock Production Science 64(1): 15–28. doi: 10.1016/S0301-6226(00)00172-X
Cab-Jiménez FE; Ortega-Cerrilla ME; Quero-Carrillo AR; Enríquez-Quiroz JF; Vaquera-Huerta H; Carranco-Jaúregui ME. 2015. Composición química y digestibilidad de algunos árboles tropicales forrajeros de Campeche, México. Revista Mexicana de Ciencias Agrícolas Especial (11):2199–2204. doi: 10.29312/remexca.v0i11.798
Castro HE. 1996. Bases técnicas para el conocimiento y manejo de los suelos del Valle Cálido del Alto Magdalena. Regional 6. Corporación Colombiana de Investigación Agropecuaria-Corpoica, Colombia. 107 p.
handle.net/20.500.12324/12782
Cediel-Devia D; Sandoval-Lozano E; Castañeda-Serrano R. 2020. Effects of different regrowth ages and cutting heights on biomass production, bromatological composition and in vitro digestibility of Guazuma ulmifolia foliage. Agroforestry Systems 94(4): 1199–1208.
doi: 10.1007/s10457-019-00354-y
Chacón E. 2011. Comportamiento ingestivo del vacuno a pastoreo. Mundo Pecuario. 7(3): 130–144. bit.ly/3WvTxip
Chilibroste P; Gibb MJ; Soca P; Mattiauda DA. 2015. Behavioral adaptation of grazing dairy cows to changes in feeding management: Do they follow a predictable pattern? Animal Production Science 55(3):328–338. doi. 10.1071/AN14484
Cingolani AM; Posse G; Collantes MB. 2005. Plant functional traits, herbivore selectivity and response to sheep grazing in Patagonian steppe grasslands. Journal of Applied Ecology 42(1):50–59. doi: 10.1111/j.1365-2664.2004.00978.x
ClimateData. 2023. Clima Espinal (Colombia). bit.ly/45slzPF (Consultado el 21 de abril 2023).
Cooper SM; Owen-Smith N; Bryant JP. 1988. Foliage acceptability to browsing ruminants in relation to seasonal changes in the leaf chemistry of woody plants in a South African savanna. Oecologia 75(3):336–342. doi: 10.1007/BF00376934
Di Rienzo JA; Casanoves F; Balzarini M; Gonzalez L; Tablada M; Robledo CW. 2018. Sotfware estadístico Infostat. Argentina. www.infostat.com.ar
Frutos P; Hervás G; Giráldez FJ; Mantecón AR. 2004. Review: Tannins and ruminant nutrition. Spanish Journal of Agricultural Research 2(2):191–202. doi: 10.5424/sjar/2004022-73
García II. 2015. Origen, bondades y usos de Moringa oleífera Lam: una revisión sistemática. En: Holguín VA, García II, Mora-Delgado J, eds. Árboles y arbustos para silvopasturas. Uso, calidad y alometría. Universidad del Tolima, Ibagué, Tolima. p. 43–68. bit.ly/41IIraA
García DE; Medina MG; Cova LJ; Torres A; Soca M; Pizzani P; Baldizán A; Domínguez CE. 2008. Preferencia de vacunos por el follaje de doce especies con potencial para sistemas agrosilvopastoriles en el Estado Trujillo, Venezuela. Pastos y Forrajes. 31(3): 255–270.
bit.ly/42JrQES
Häring DA; Scharenberg A; Heckendorn F; Dohme F; Lüscher A; Maurer V; Suter D; Hertzberg H. 2008. Tanniferous forage plants: agronomic performance, palatability and efficacy against parasitic nematodes in sheep. Renewable Agriculture and Food Systems 23(1):19–29. doi: 10.1017/S1742170507002049
Hussain F; Jan DM. 2009. Seasonal availability, palatability and animal preferences of forage plants in Harboi arid range land, Kalat, Pakistan. Pakistan Journal of Botany 41(2):539–554. bit.ly/3oaRDqB
Hill J; Chapman DF; Cosgrove GP; Parsons AJ. 2009. Do ruminants alter their preference for pasture species in response to the synchronization of delivery and release of nutrients? Rangeland Ecology and Management 62(5):418–427. doi: 10.2111/08-084.1
Holdridge LR. 1978. Ecología basada en zonas de vida. Instituto Interamericano de Ciencias Agrícolas (IICA), San José, Costa Rica. 216 p. handle/11324/7936
Holguín-Castaño VA; Ortiz-Grisales S; Velasco-Navia A; Mora-Delgado JR. 2015. Evaluación multicriterio de 44 introducciones de Tithonia diversifolia (Hemsl.) Gray en Candelaria, Valle del Cauca. Revista de la Facultad de Medicina Veterinaria y de Zootecnia 62(2)57–72. doi: 10.15446/rfmvz.v62n2.51995
Ibrahim M; Villanueva C; Casasola F. 2007. Sistemas silvopastoriles como una herramienta para el mejoramiento de la productividad y rehabilitación ecológica de paisajes ganaderos en Centro América. Archivos Latinoamericanos de Producción Animal 15 (Supl. 1):74–88. handle.net/1807/53069
Jenko C; Bonato P; Fabre R; Perlo F; Tisocco O; Teira G. 2018. Adición de taninos a dietas de rumiantes y su efecto sobre la calidad y rendimiento de la carne. Ciencia, Docencia y Tecnología 29(56):224–241. bit.ly/3ogTxpu
Jiménez-Ferrer JG; Pérez-López H; Soto-Pinto L; Nahed-Toral J; Hernández-López L; Carmona J. 2007. Livestock, nutritive value and local knowledge of fodder trees in fragment landscapes in Chiapas, Mexico. Interciencia 32(4):274–280. bit.ly/3Mfp4Ao
Kenney PA; Black JL. 1984. Factors affecting diet selection by sheep. 1. Potential intake rate and acceptability of feed. Australian Journal of Agricultural Research 35(4):551–563. doi: 10.1071/AR9840551
Kissileff HR. 1990. Some suggestions on dealing with palatability–Response to Ramirez. Appetite 14(3):162–166. doi: 10.1016/0195-6663(90)90082-J
Larbi A; Khatib-Salkin A; Jammal B; Hassan S. 2011. Seed and forage yield, and forage quality determinants of nine legume shrubs in a non-tropical dryland environment. Animal Feed Science and Technology 163(2–4):214–221. doi: 10.1016/j.anifeedsci.2010.11.006
Lascano CE. 1984. Medición de la palatabilidad en forrajes. Colección histórica Seminarios internos. CIAT, Colombia. bit.ly/3MO3c0h
Lascano CE. 2000. Selective grazing on grass-legume mixtures in tropical pastures. In: Lemaire G, Hodgson J, Moraes A de, Nabinger C, Carvalho PCF, eds. Grassland ecophysiology and grazing ecology. Wallingford UK: CABI Publishing. p. 249–263. bit.ly/433Os2Y
Lyons RK; Machen R; Forbes TDA. 2001. Entendiendo el consumo de forraje de los animales en pastizales. AgriLife Extension. Texas A&M. E-100S. handle/1969.1/87064
Lloyd KM; Pollock ML; Mason NWH; Lee WG. 2010. Leaf trait–palatability relationships differ between ungulate species: evidence from cafeteria experiments using naïve tussock grasses. New Zealand Journal of Ecology 34(2):219–226. www.jstor.org/stable/24060644
Makkar HPS. 2003. Quantification of tannins in tree and shrub foliage. A laboratory manual. Kluwer Academic Publishers. Netherlands. 102 p. doi: 10.1007/978-94-017-0273-7
Min BR; Barry TN; Attwood GT; McNabb WC. 2003. The effect of condensed tannins on the nutrition and health of ruminants fed fresh temperate forages: a review. Animal Feed Science and Technology 106(1–4):3–19.
doi: 10.1016/S0377-8401(03)00041-5
Montgomery DC. 2004. Diseño y análisis de experimentos. Limusa Wiley, 2da edición. Versión traducida al español. 689 p. ISBN 968-18-6156-6.
Mora-Delgado J; Castañeda R; Piñeros R. 2014. Paisajes, pasturas y pastos: métodos para determinar cantidad y calidad. 1ª Ed. Universidad del Tolima, Ibagué, Tolima. 120 p. handle/001/3245
Mueller-Harvey I. 2006. Unravelling the conundrum of tannins in animal nutrition and health. Journal of the Science of Food and Agriculture 86(13):2010–2037. doi: 10.1002/jsfa.2577
Owen-Smith N. 1993. Woody plants, browsers and tannins in southern African savannas. South African Journal of Science 89(10): 505–510. bit.ly/3oA1TZv
Pereira TP; Modesto EC; Nepomuceno DD; Oliveira OF de; Freitas RSX de; Muir JP; Dubeux Junior JCB; Almeida JCC. 2018. Characterization and biological activity of condensed tannins from tropical forage legumes. Pesquisa Agropecuária Brasileira 53(9):1070–1077.
doi: 10.1590/S0100-204X2018000900011
Pérez-Almario N; Medina-Ríos EL; Mora-Delgado J; Criollo-Cruz D y Mejía JR. 2021. Criterios de uso y conservación de árboles en potreros basados en el conocimiento local de los ganaderos en una zona de bosque seco tropical en Colombia. Tropical Grasslands-Forrajes Tropicales 9(3):321–336. doi: 10.17138/tgft(9)321-336
Pérez-Almario N; Ospina SD; Mora JR; Criollo-Cruz D. y Medina EL. 2017. Atributos funcionales a considerar en la selección de especies leñosas para el diseño de sistemas silvopastoriles en zonas secas. En: Chará J, Peri P, Rivera J, Murgueitio E, Castaño K, eds. IX Congreso Internacional de Sistemas Silvopastoriles Sistemas Silvopastoriles: Aportes a los Objetivos de Desarrollo Sostenible. CIPAV. p. 14–21.
Pérez-Almario N; Ibrahim M; Villanueva C; Skarpe C; Guerin H. 2012. Uso de la diversidad forrajera tropical en combinaciones pareadas de leñosas forrajeras como indicador de preferencia para su inclusión en el diseño de sistemas silvopastoriles en zonas secas. Revista Corpoica Ciencia y Tecnología Agropecuaria 13(1):79–88. doi: 10.21930/rcta.vol13_num1_art:243
Pérez-Almario N. 2011. Rasgos funcionales nutricionales de especies leñosas en sistemas silvopastoriles y su contribución a la sostenibilidad de la ganadería bovina en la época seca en el departamento de Rivas, Nicaragua. Mag. Sc Tesis. Centro Agronómico Tropical de Investigación y Enseñanza (CATIE) Turrialba, Costa Rica, p. 126. handle/11554/11027
Pezo D. 2009. Los pastizales seminaturales de América Central: un recurso forrajero poco estudiado. Agroforestería en las Américas 47:4–5. handle/11554/6513
Pinto-Ruiz R; Hernández D; Gómez H; Cobos MA; Quiroga R; Pezo D. 2010. Árboles forrajeros de tres regiones ganaderas de Chiapas, México. Usos y características nutricionales. Universidad y Ciencia 26(1):19–31.
bit.ly/3OuWIoq
Provenza FD; Villalba JJ; Haskell J; Macadam JW; Griggs TC; Wiedmeier RD. 2007. The value to herbivores of plant physical and chemical diversity in time and space. Crop Science 47(1):382–398. doi: 10.2135/cropsci2006.02.0083
Quansah ES; Makkar HPS. 2012. Use of lesser-known plants and plant parts as animal feed resources in tropical regions. FAO Animal Production and Health, Working Paper No. 8. Rome. ISSN 2221-8793. bit.ly/45vc6Hh
Reddy DV; Elanchezhian V. 2008. Evaluation of tropical tree leaves as ruminant feedstuff based on cell contents, cell wall fractions and polyphenolic compounds. Livestock Research for Rural Development. 20(5):77. bit.ly/3ooT7O7
Rosales Méndez M. 1999. Mezclas de forrajes: Uso de la diversidad forrajera tropical en sistemas agroforestales. En: Sánchez MD; Rosales Méndez M (eds). Memorias de una conferencia electrónica sobre Agroforestería para la producción animal en Latinoamérica. Estudio FAO producción y sanidad animal. Fundación CIPAV y FAO, Roma, Italia 143:201–230. bit.ly/3kifous
Sandoval-Castro CA; Lizarraga-Sanchez HL; Solorio-Sánchez FJ. 2005. Assessment of tree fodder preference by cattle using chemical composition, in vitro gas production and in situ degradability. Animal Feed Science and Technology 123–124(Part 1):277–289. doi: 10.1016/j.anifeedsci.2005.04.057
Schofield P; Mbugua DM; Pell AN. 2001. Analysis of condensed tannins: a review. Animal Feed Science and Technology 91(1–2):21–40. doi: 10.1016/S0377-8401(01)00228-0
Stewart JL. 1999. Variación genetica en árboles forrajeros. En: Sánchez MD; Rosales Méndez M (eds). Memorias de una conferencia electrónica sobre Agroforestería para la producción animal en Latinoamérica. Estudio FAO producción y sanidad animal. Fundación CIPAV y FAO, Roma, Italia 143:327–349. bit.ly/3kifous
Vásquez F; Mora-Delgado J; Aguilar M. 2014. Saber popular de especies forrajeras en la zona central de nicaragua: un estudio en grupos focales. Revista de Ciencias Agrícolas 31(1):27–41. doi: 10.22267/rcia.143101.43
Van Soest P. 1994. Nutritional ecology of the ruminant. 2a edition. Cornell University Press, Cornell, USA. 476 p.
Velázquez-Vélez R; Pezo D; Skarpe C. Ibrahim M; Mora-Delgado J; Benjamin T. 2009. Selectividad animal de forrajes herbáceos y leñosos en pasturas seminaturales en Muy Muy, Nicaragua. Agroforestería en las Américas 47:51–60. handle/11554/6804
Villanueva C; Ibrahim M; Casasola F; Ríos N; Sepúlveda C. 2009. Sistemas silvopastoriles: una herramienta para la adaptación al cambio climático de las fincas ganaderas en América Central. En: Buenas prácticas agrícolas para la adaptación al cambio climático. Informe técnico CATIE No. 377. CATIE, Turrialba, Costa Rica. p. 103–125. handle/11554/10149
How to Cite
Pérez-Almario, N., Mora-Delgado, J., Criollo-Cruz, D., Carvajal-Bazurto, C. T., Moreno-Turriago, J. M., & Orjuela-Franco, O. E. (2023). Relative palatability of woody forage species from the tropical dry forest using a cafeteria method. Tropical Grasslands-Forrajes Tropicales, 11(2), 145–159. https://doi.org/10.17138/tgft(11)145-159
Downloads
Download data is not yet available.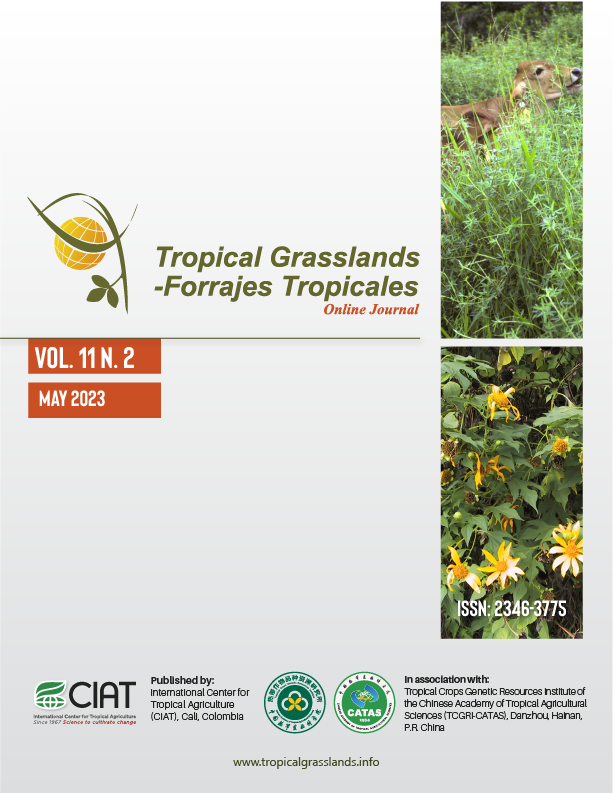 Downloads
License
Copyright (c) 2023 Tropical Grasslands-Forrajes Tropicales
This work is licensed under a Creative Commons Attribution 4.0 International License.