Long-term effects of rotational grazing in Urochloa brizantha cv. Marandú pastures on soil quality indicators
Abstract
Cattle raising is an important activity in Peru, with production systems differentiated by purpose, edaphoclimatic conditions and pasture management practices. In Ruiz farm, located in Codo del Pozuzo district (Huánuco, Peru), the effect of long-term grazing on soil quality was evaluated through physical (texture, penetrometer resistance) and chemical indicators (pH, OM, N, P, K+, Ca2+, Mg2+, Al3+, CEC, base saturation, exchangeable acidity and aluminum saturation), in Urochloa brizantha cv. Marandú pastures managed for 10 (PU10), 20 (PU20), 30 (PU30), and 40 years (PU40), compared to a contiguous secondary forest (BS) area. Data were analyzed with descriptive and multivariate statistics, and multiple linear regression models. Long-term (up to 40 years) grazing resulted in increasing soil compaction over time, and affected all chemical indicators evaluated, except for pH and Al3+. The transformation of forest into pastures negatively affected the pH, K+, Ca2+, Mg2+ and CEC levels, and increased Al3+ content. Results obtained suggest that the rotational grazing system applied for up to 40 years in the study farm resulted in soil compaction, loss of exchangeable bases and aluminum toxicity. Further studies are required to determine the effects of applying a rational grazing management considering the carrying capacity of the pastures, as well as plowing and fertilization, as means to mitigate trampling effects, reverse compaction, improve nutrient availability and reduce Al3+ content in soils.
References
Bazán R. 2017. Manual de procedimientos de los análisis de suelos y agua con fines de riego. Instituto Nacional de Innovación Agraria (INIA), Lima, Perú. 89 p. bit.ly/3MWgpEj
Betancourt H; Pezo DA; Cruz J; Beer J. 2007. Impacto Bioeconómico de la degradación de pasturas en fincas de doble propósito en El Chal, Petén, Guatemala. Revista Pastos y Forrajes 30(1): 169–175. bit.ly/43nLeXW
Bohn HL; McNeal BL; O´Connor GA. 1993. Química del suelo. Editorial Limusa. 1º Edición. México. 363 p.
Borges CS; Ribeiro BT; Wendling B; Cabral DA. 2015. Agregação do solo, carbono orgânico e emissão de CO2 em áreas sob diferentes usos no Cerrado, região do Triângulo Mineiro. Revista Ambiente & Água 10(3):660–675. doi: 10.4136/ambi-agua.1573
Bueno Buelvas R; Fernández Lizarazo JC. 2019. La capacidad de intercambio catiónico del suelo: una bóveda de nutrición clave en la producción de alimentos. Ámbito Investigativo 4(1):6–12. bit.ly/429XNoN
Camasca PL. 2011. Efecto de diferentes abonos orgánicos en el establecimiento del Brachiaria brizantha Stapf cv. Marandú en la zona de Tingo María. Tesis Ing, Universidad Nacional Agraria de la Selva, Tingo María, Perú. 71 p. handle.net/20.500.14292/785
Carreño A; Chaparro-Giraldo A. 2013. Tolerancia al aluminio en especies vegetales: mecanismos y genes. Universitas Scientiarum 18(3):283–310. doi: 10.11144/Javeriana.SC18-3.taev
Cervelati KF; Neto ELS; Neto EL; Sadayuki E; Silva MR; Pierangeli MAP. 2011. Efeito de diferentes sistemas de pastejo em atributos físicos do solo. Pubvet 5(22):1142. doi: 10.22256/pubvet.v5n22.1142
Colmán PJ; Genú AM; Lustosa SBC; Pott CA. 2018. Propiedades físicas de suelos en pasturas de Urochloa brizantha cv. Marandú en el distrito de Jasy Cañy, Paraguay. Acta Agronómica 67(1):414–419. doi: 10.15446/acag.v67n3.68923
Crespo G. 2009. Recuperación de la fertilidad del suelo en áreas ganaderas degradadas. Revista Cubana de Ciencia Agrícola, 43(4):355–360. bit.ly/3OEbUzq
Costa A da; Albuquerque JA; Mafra AL; Silva FR da. 2009. Propriedades físicas do solo em sistemas de manejo na integração agricultura-pecuária. Revista Brasileira de Ciência do Solo 33(2):235–244. doi: 10.1590/S0100-06832009000200001
Demuner Molina G; Cadena Zapata M; Campos SG. 2013. Resistencia a la penetración en un suelo franco arcilloso a dos años de manejo con tres sistemas de labranza. Revista Ciencias Técnicas Agropecuarias, 22(5):68–71. doi: bit.ly/3Mrqk3a
Escalante MÁ. 2015. Estado de degradación de las pasturas de la asociación de ganaderos de Aucayacu-La Morada. Tesis Ing., Universidad Nacional Agraria de la Selva, Tingo María, Perú. 46 p. handle.net/20.500.14292/1313
Flores JPC; Anghinoni I; Cassol LC; Carvalho PCF; Leite JGB; Fraga TI. 2007. Atributos físicos do solo e rendimento de soja em sistema plantio direto em integração lavoura-pecuária com diferentes pressões de pastejo. Revista Brasileira de Ciência do Solo 31(4):771–780. doi: 10.1590/S0100-06832007000400017
Gujarati DN; Porter DC. 2010. Econometría. Editorial: McGraw-Hill Interamericana. 5ta ed. México D.F. 914 p. ISBN: 978-607-15-0294-0
Havlin JL; Beaton JD; Tisdale SL; Nelson WL. 1999. Soil fertility and fertilizers; an introduction to nutrient management. 6ta ed. Prentice Hall, Upper Saddle River. USA. 499 p.
Kavana PY; Mtengeti EJ; Sangeda A; Mahonge C; Fyumagwa R; Bukombe J. 2021. ¿Cómo afectan actividades agro-pastoriles el forraje y las características del suelo en Serengeti occidental, Tanzania?. Tropical Grasslands-Forrajes Tropicales 9(1):120–133. (En inglés). doi: 10.17138/tgft(9)120-133
Lisboa LAM; Días GHO; Sacco HAA; Padovan JVR; Rodrigues GB; Ribeiro KB; Silva GG da; Cardoso AS; Pereira LB; Figueiredo PAM de. 2021. Cambios en el crecimiento y en las ultraestructuras de tejidos radiculares y foliares de Urochloa brizantha cultivado en suelo con niveles tóxicos de aluminio. Tropical Grasslands-Forrajes Tropicales 9(1):23–33. (En inglés). doi: 10.17138/tgft(9)23-33
Llerme NV; José EC; Junior SGP. 2013. Influence of soil use on organic carbon and humic substances of an Oxisol in tropical systems. En: Xu J, Wu J, He Y, eds. Functions of natural organic matter in changing environment. Zhejiang University Press and Springer Science. pp. 401–405. doi: 10.1007/978-94-007-5634-2_73
May T. 2015. pH, aluminio y factores ambientales en suelos bajo bosques de la Cordillera Central, República Dominicana. Revista Geográfica Venezolana 56(1):59–71. handle/123456789/40097
Meyers LS, Gamst GC, Guarino AJ. 2013. Performing data analysis using IBM SPSS. John Wiley & Sons, Hoboken, NJ, USA. ISBN: 978-1-118-36357-7.
MIDAGRI (Ministerio de Desarrollo Agrario y Riego). 2021. Perfil productivo y competitivo de las principales especies y productos pecuarios. Perú. bit.ly/3MGO042. (Consultado febrero 2023).
Muller MML; Guimarães MF; Desjardins T; Martins PFS. 2001. Degradação de pastagens na Região Amazônica: propriedades físicas do solo e crescimento de raízes. Pesquisa Agropecuária Brasileira 36(11):1409–1418. doi: 10.1590/S0100-204X2001001100012
Navarro S; Navarro G. 2003. Química agrícola. El suelo y los elementos químicos esenciales para la vida vegetal. 2da ed. Ediciones Mundi–Prensa, Madrid. 487p.
Navarro L; Florida N; Navarro M. 2018. Sustancias húmicas y agregación en oxisol (Rhodic Eutrudox) con pasto brachiaria y otros sistemas de uso. Livestock Research for Rural Development 30(8):137. bit.ly/3WOk8HD
Neto FVC; Pereira MG; Leles PSS; Abel ELS. 2018. Atributos químicos e físicos do solo em áreas sob diferentes coberturas florestais e pastagem em Além Paraíba-MG. Ciência Florestal 28(1):13–24. doi: 10.5902/1980509831569
Nobre NAO. 2008. Avaliação dos atributos físicos do solo em três sistemas de uso e seus impactos na bacia hidrográfica do Rio Carapá em Colíder-MT. Tesis Mag. Sc, Universidade do Estado de Mato Grosso, Mato Grosso, Brasil. bit.ly/3Mz3BCy
Ordoñez MC; Galicia L; Casanova JF. 2022. Evaluación del cambio de uso del suelo sobre un andosol mediante indicadores fisicoquímicos y biológicos. Tropical Grasslands-Forrajes Tropicales 10(1):52–62. (En inglés). doi: 10.17138/tgft(10)52-62
Padilla C; Crespo G; Sardiñas Y. 2009. Degradación y recuperación de pastizales. Revista Cubana de Ciencia Agrícola 43(4):351–354. bit.ly/43ofBO3
Pérez A; Galvis A; Bugarín R; Hernández TM; Vázquez MA; Rodríguez A. 2017. Capacidad de intercambio catiónico: descripción del método de la tiourea de plata (AgTU+ n). Revista Mexicana de Ciencias Agrícolas. 8(1):171–177. doi: 10.29312/remexca.v8i1.80
Pezo DA. 2018. Establecimiento y manejo de sistemas intensivos de pastoreo racional. Serie Técnica, Informe Técnico no. 96. CATIE, Turrialba, Costa Rica. 56 p. bit.ly/436UBeY
Pulgar J. 2014. Las ocho regiones naturales del Perú. Terra Brasilis (Nova Série) 3:1–20. doi: 10.4000/terrabrasilis.1027
Rao IM; Miles JW; Beebe SE; Horst WJ. 2016. Root adaptations to soils with low fertility and aluminium toxicity. Annals of Botany 118(4):593–605. doi: 10.1093/aob/mcw073
Rivera E; Sánchez M; Domínguez H. 2018. pH como factor de crecimiento en plantas. Revista de Iniciación Científica 4(Esp 2):101–105. doi: 10.33412/rev-ric.v4.0.1829
Rosas-Patiño G; Puentes-Páramo YJ; Menjivar-Flores JC. 2017. Relación entre el pH y la disponibilidad de nutrientes para cacao en un entisol de la Amazonia colombiana. Revista Ciencia y Tecnología Agropecuaria 18(3):529–541. doi: 10.21930/rcta.vol18_num3_art:742
SAGARPA (Secretaría de Agricultura, Ganadería y Desarrollo Rural, Pesca y Alimentación). 2012. Subíndice de Uso Sustentable del Suelo–Metodología de Cálculo. FAO y SAGARPA México.
Salazar FV. 2010. Efecto de la fertilización orgánica en el establecimiento del pasto Brachiaria brizantha (Richard) Stapf cv Marandú en Supte San Jorge - Tingo María. Tesis Ing., Universidad Nacional Agraria de la Selva, Tingo María, Perú. 66 p. handle.net/20.500.14292/416
Sánchez JM. 2019. Caracterización de los sistemas de producción de vacunos para el desarrollo ganadero en el distrito de Oxapampa – Pasco. Tesis Mag. Sc. Universidad Nacional Agraria La Molina, Lima, Perú. 109 p. handle.net/20.500.12996/3814
Santos DC dos; Lima CLR de; Pillon CN; Alba JMF; Rosa CM da; Farias MO. 2012. Distribución de la materia orgánica en clases de agregados en un latosol arcilloso rojo bajo forestación y pastizal. Agrociencia. 46(3):231–241. bit.ly/436SLL8
Sarmento P; Rodrigues LRA; Cruz MCP da; Lugão SMB; Campos FP de; Centurion JF; Ferreira ME. 2008. Atributos químicos e físicos de um Argissolo cultivado com Panicum maximum Jacq. cv. IPR-86 Milênio, sob lotação rotacionada e adubado com nitrogênio. Revista Brasileira de Ciência do Solo 32(1):183–193. doi: 10.1590/S0100-06832008000100018
Sharrow SH. 2007. Soil compaction by grazing livestock in silvopastures as evidenced by changes in soil physical properties. Agroforestry Systems 71(3):215–223. doi: 10.1007/s10457-007-9083-4
How to Cite
Florida Rofner, N., Abad Principe, R. M., Rengifo-Rojas, A., & Nazar Cipriano, J. (2023). Long-term effects of rotational grazing in Urochloa brizantha cv. Marandú pastures on soil quality indicators. Tropical Grasslands-Forrajes Tropicales, 11(2), 131–144. https://doi.org/10.17138/tgft(11)131-144
Downloads
Download data is not yet available.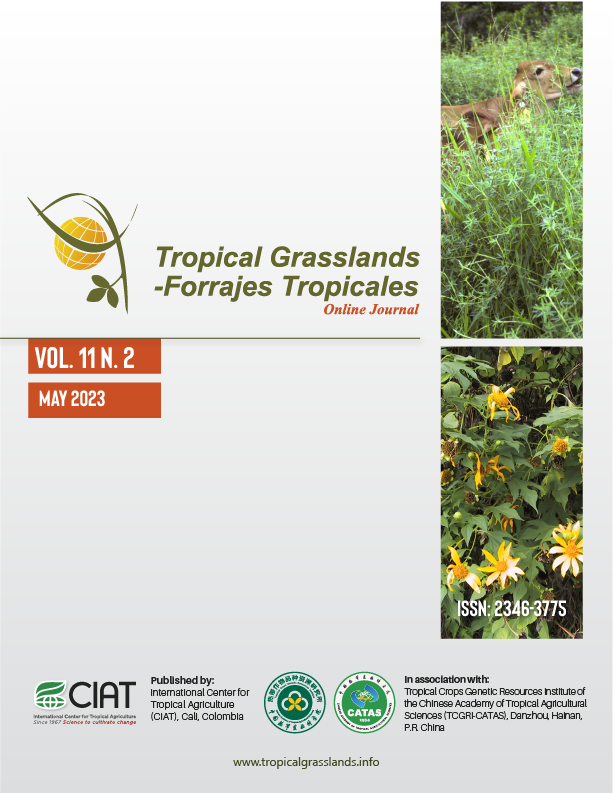 Downloads
License
Copyright (c) 2023 Tropical Grasslands-Forrajes Tropicales
This work is licensed under a Creative Commons Attribution 4.0 International License.