Esterase polymorphism for genetic diversity analysis of some accessions of a native forage grass, <i>Mesosetum chaseae</i> Luces, from the Brazilian Pantanal
Abstract
The aim of the present study was to estimate the genetic diversity within the samples of Mesosetum chaseae from the Embrapa Pantanal Germplasm Bank (BAG) and assess how they are genetically structured to guide proposals to: 1) identify native forages for further testing to measure their suitability for sowing in conjunction with or as an alternative to exotic forages, mainly Urochloa humidicola; and 2) improve the species M. chaseae with samples that are maintained in the BAG. Isozyme α- and β-esterases were analyzed in 10 accessions collected from different locations in the Nhecolândia sub-region of the Pantanal, and maintained in the BAG. Accessions A11, which showed the highest effective number of alleles, and A32 with the highest average values of expected and observed heterozygosity, were identified as warranting further study as possible options for sowing as pasture forages, as well as for use in recovering poor and degraded areas in the Pantanal region. A high level of population differentiation was detected among the 10 accessions, indicating that they form genetically structured populations and that all accessions are important samples of M. chaseae, which should be maintained in the BAG. Crosses between sample plants with the highest genetic distances are recommended to implement improvement plans with a prospect of broadening the genetic base of the species.
Keywords: Genetic polymorphism, genetic resources, grama-do-cerrado, isoesterases, Poaceae.
DOI:
10.17138/TGFT(3)194-204
How to Cite
Meirelles, A. C. S., Monteiro, E. R., da Silva, L. A., da Silva, D., Santos, S. A., de Oliveira-Collet, S. A., Mangolin, C. A., & Machado, M. de F. P. (2015). Esterase polymorphism for genetic diversity analysis of some accessions of a native forage grass, <i>Mesosetum chaseae</i> Luces, from the Brazilian Pantanal. Tropical Grasslands-Forrajes Tropicales, 3(3), 194–204. https://doi.org/10.17138/tgft(3)194-204
Downloads
Download data is not yet available.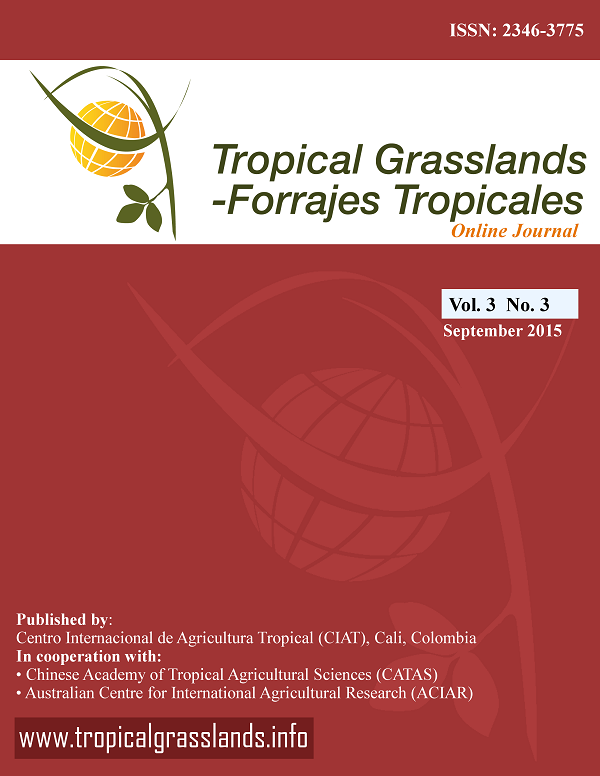 Downloads