The influence of seed structures on dormancy in seeds of <i>Urochloa</i> hybrid cultivar 'Mulato Ⅱ'
Abstract
This study determined the effects of seed structures on seed dormancy and tested methods to break dormancy in seeds of Urochloa hybrid cultivar 'Mulato II'. Seeds stored for 10 months in indoor ambient conditions were studied to determine effects of seed structures on seed germination and their water permeability. Results showed that seed structures presented a barrier to water permeability. Removal of lemmas, puncturing the seed coat, seed structure removal and sulfuric acid immersion all reduced seed dormancy. Water and alcohol extracts from different parts of seeds inhibited seed germination of Brassica pekinensis seeds. There were 3 mechanisms responsible for seed dormancy; first, the mechanical barrier of seed structures, which excluded water and reduced gas exchange as well as restricting growth of the embryo; second, an endogenous germination inhibitor mainly found in lemmas; and third, water permeability of the seed coat (including pericarp and testa). The mechanical removal of lemmas and immersion in concentrated sulfuric acid reduced seed dormancy, although mechanical removal of the lemma alone was effective, convenient and safer.
How to Cite
Liu, J., Wang, H., Luo, F., Wang, Y., Xu, C., & Jiang, J. (2022). The influence of seed structures on dormancy in seeds of <i>Urochloa</i> hybrid cultivar 'Mulato Ⅱ'. Tropical Grasslands-Forrajes Tropicales, 10(3), 156–163. https://doi.org/10.17138/tgft(10)156-163
Downloads
Download data is not yet available.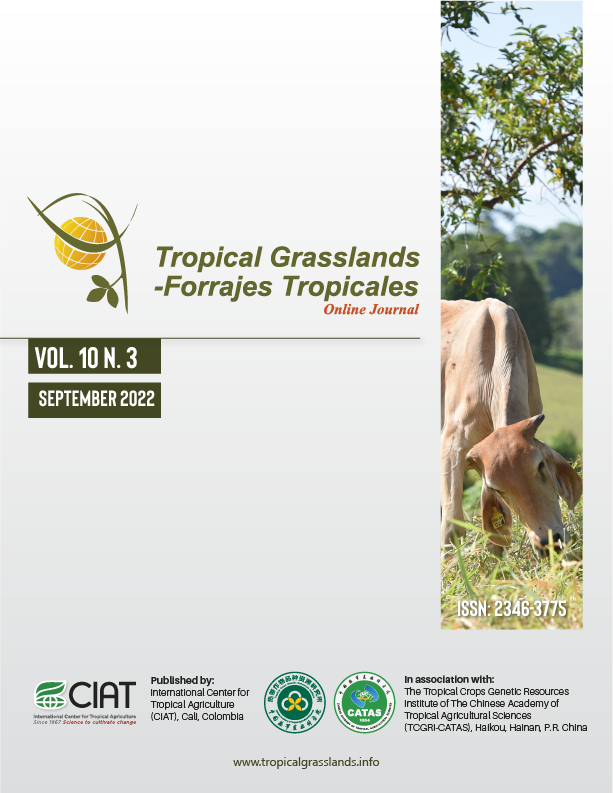 Downloads