Vol. 10 No. 3 (2022): September 2022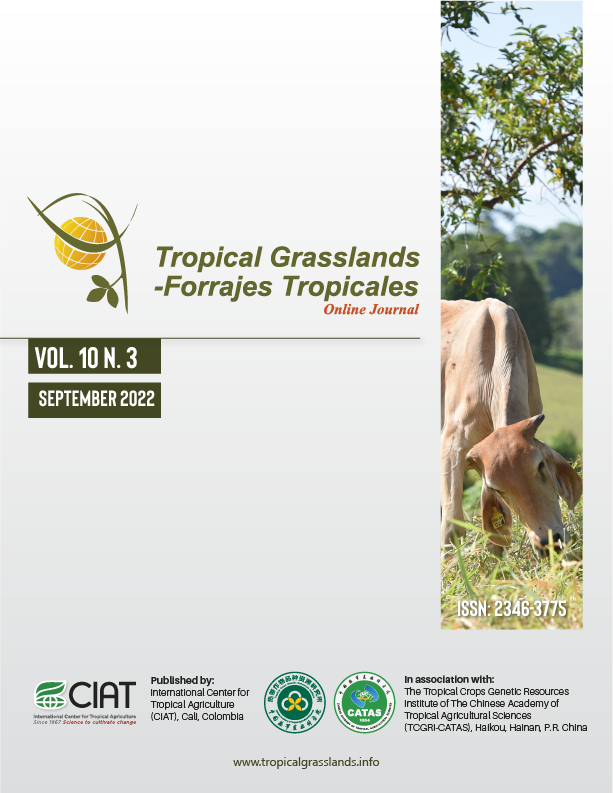 CIAT received International Science and Technology Cooperation Award for scientific cooperation with CATAS
On May 31st, 2022, the ceremony for the International Science and Technology Cooperation Award of the P.R. China was held at the Chinese Embassy in Italy. The Chinese Academy of Tropical Agricultural Sciences (CATAS), as a cooperation unit, attended the award ceremony online. On behalf of the Chinese government, Ambassador Li Junhua presented the medal and certificate to the International Center for Tropical Agriculture (CIAT).
Li Junhua congratulated CIAT (now the Alliance Bioversity-CIAT) on winning the China International Science and Technology Cooperation Award, and fully affirmed the productive cooperation and fruitful achievements that CIAT, as an international organization, has carried out with CATAS for a long time. He looked forward to more cooperation between the Alliance and Chinese partners such as CATAS. He stressed that China will deepen international scientific and technological cooperation with the Alliance, share scientific public goods, strengthen global scientific research cooperation and jointly meet major global challenges.
Juan Lucas Restrepo, Director General of the Alliance of Bioversity International and CIAT thanked the Chinese government for this award, reviewed the fruitful cooperation between CIAT and CATAS, and said that the Alliance would continue to vigorously deepen cooperation with China and jointly contribute to the sustainable development of global agriculture.
On behalf of the Chinese cooperation unit, Liu Guodao introduced the cooperation achievements made by CATAS and CIAT in the cultivation of new varieties, technology promotion, platform co-construction and personnel training around the two major crops, tropical forages and cassava since 1982, and the co-publication of the Online Journal Tropical Forages-Forrajes Tropicales since 2012. He said that CATAS will further deepen cooperation with the Alliance, expand cooperation fields, carry out jointly research on agricultural biodiversity and sustainable development in tropical areas, and make new contributions to promote the higher level development of global tropical agriculture.
Dr. Rainer Schultze Kraft, CIAT Emeritus Scientist and winner of the 2016 Friendship Award of the Chinese government, appreciated the cooperation experience, achievements and the profound friendship with CATAS staff over the past 40 years. He looked forward to the further cooperation between the two sides in the future in research on tropical forages and the continued support of the Tropical Grasslands-Forrajes Tropicales online journal.