The role of leucaena in cattle fattening and breeding production systems in Eastern Indonesia
Abstract
Cattle farming in West Nusa Tenggara province, Indonesia (NTB) is essential to support the high demand for beef cattle in Indonesia. Leucaena was introduced to smallholders as a high-quality feed to increase cattle production in NTB. A survey was conducted with both leucaena-using and non-leucaena-using smallholder cattle farmers in Sumbawa and West Sumbawa districts, NTB to understand the role of leucaena in NTB smallholder cattle enterprises (mixed breeding/fattening) and the effect of leucaena toxicity on cattle performance, especially cow-calf production. We found that farmers using leucaena feeding systems were able to keep more cattle than farmers using a traditional feeding system (9.1 vs 6.1 head/household). Many leucaena-using farmers (50.1 %) use leucaena for fattening cattle only. Other cattle classes (growers, breeding cows and bulls) were fed leucaena strategically, such as during the dry season (59 % of leucaena-using farmers) and at specific stages of pregnancy and lactation (41 % of leucaena-using farmers). Leucaenausing farmers in rainfed areas planted more leucaena (4,500 vs 1,984 trees) and fattened more bulls (5.8 vs 3.5 head/ household) than farmers in high-rainfall areas. Transmigrant Balinese farmers planted significantly more leucaena trees (7,500 vs 2,354 trees) and raised more fattening bulls (7.8 vs 3.7 head/household) than the local Sumbawanese farmers. Most Balinese farmers had been practising leucaena feeding systems since they migrated to Sumbawa, for a long as 3 decades. Most leucaena-using farmers (74 %) had observed symptoms of illness associated with leucaena toxicity in their cattle such as hair loss and salivation. Few farmers feeding leucaena to breeding cows (5 %) reported instances of reproductive failure. Almost all non-leucaena-using farmers (93 %) reported symptoms of illnesses associated with plant toxicities (among other potential causes), most commonly skin lesions, diarrhoea, cataract, and listlessness. It was concluded that the priority use of leucaena in Sumbawa was for fattening cattle rather than breeding cattle. Leucaena supports smallholder farmers in Sumbawa to have more intensive, productive and income-earning cattle enterprises, but questions remain over whether it should be used for feeding breeding cows.
How to Cite
Irawan, F., Dahlanuddin, .-., Halliday, M. J., Hegarty, R. S., & Cowley, F. C. (2022). The role of leucaena in cattle fattening and breeding production systems in Eastern Indonesia. Tropical Grasslands-Forrajes Tropicales, 10(3), 222–236. https://doi.org/10.17138/tgft(10)222-236
Downloads
Download data is not yet available.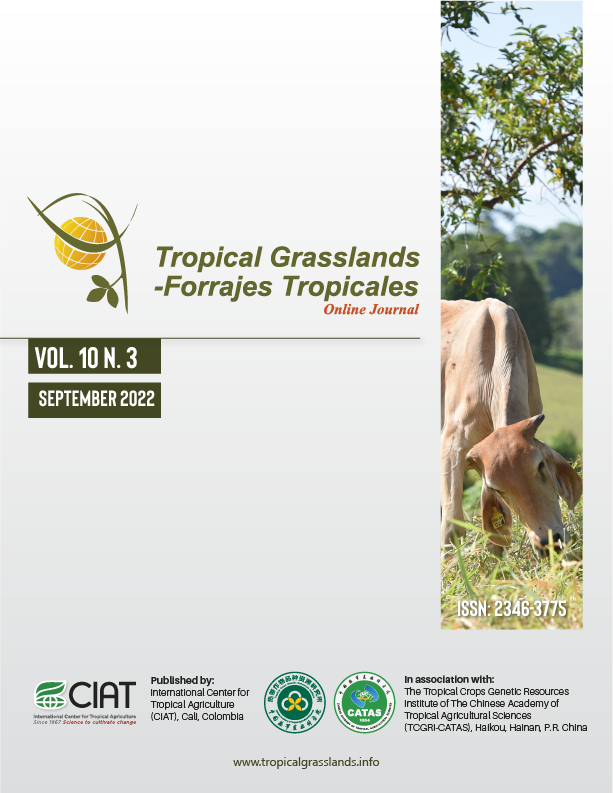 Downloads