The impact of COVID-19 on the sustainable intensification of forage-based beef and dairy value chains in Colombia: a blessing and a curse
Abstract
The COVID-19 pandemic has exacerbated the difficulties associated with the need to transition the cattle sector in Latin America towards achieving sustainability and created a "double crisis" of pandemic and climate change. The increasing demand for animal sourced foods and the need to address the negative environmental impacts of cattle production, including greenhouse gas emissions, biodiversity loss and deforestation, and the implications of climate change on cattle production (prolonged droughts, prolonged rainy seasons, heat stress), have placed strong emphasis on sustainable intensification of forage-based beef and dairy systems for climate change mitigation and adaptation. This is needed to meet the commitments made by many Latin American countries to reduce greenhouse gas emissions under the Paris Agreement. Through a qualitative approach, this perspective paper reviews the present and potential impacts of the COVID-19 pandemic on progress towards sustainable intensification of the Colombian cattle sector. It also outlines new opportunities for sustainable intensification in Colombia that may provide useful examples for other Latin American countries. Short-term impacts such as: (i) increased input prices, (ii) limited access to inputs, credit, and technical assistance, and (iii) reduced incomes, have limited investment in sustainable intensification along the value chains. Reduced resources for research and development funding, unavailability of skilled and experienced staff, restrictions to travel and person-to-person interactions, in tandem, have caused setbacks in the development and application of sustainable technologies and programs. This has been addressed by increased use of technology for communication but there are difficulties with the broad availability of such technologies, especially farmers. A long-term shift of consumer demand towards more sustainable animal products is occurring and expected to continue, and this should lead to new opportunities for sustainable intensification.
How to Cite
Burkart, S., Díaz, M., Enciso, K., Charry, A., Triana, N., Mena, M., Urrea-Benítez, J. L., Gallo Caro, I., & van der Hoek, R. (2022). The impact of COVID-19 on the sustainable intensification of forage-based beef and dairy value chains in Colombia: a blessing and a curse. Tropical Grasslands-Forrajes Tropicales, 10(3), 237–248. https://doi.org/10.17138/tgft(10)237-248
Downloads
Download data is not yet available.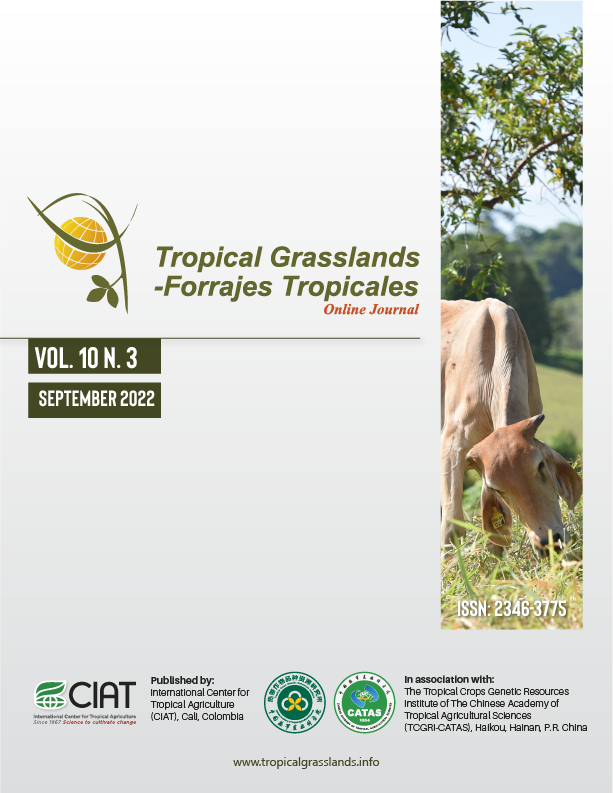 Downloads