Forage characterization of Carajás grass (<i>Cenchrus purpureus</i> × <i>C. americanus</i>) fertilized with a range of doses of protected urea under irrigation during the growing season
Abstract
The objective of this study was to assess the agronomic and nutritional responses of Carajás grass (Cenchrus purpureus × C. americanus, syn. Pennisetum purpureum × P. glaucum, cultivar 'Carajás') fertilized with protected urea. The experimental design was completely randomized blocks in split-plot arrangement over time. The treatments consisted of 5 levels of nitrogen (0, 100, 200, 400 and 800 kg N/ha/year) and measurements were made over 2 seasons (spring 2015 and summer 2016), with 8 replicates. Leaf and stem elongation and senescence rate of tillers increased as N dosage increased, while tiller density, leaf:stem ratio, live:dead material ratio and phyllochron declined. Forage biomass increased with N dosage reaching 47 t DM green forage/ha at 800 kg N/ha but DM production per unit of N applied declined dramatically as level of N applied increased. There was no effect of season. For crude protein (CP) and fiber concentrations, a positive effect was observed with increasing N application, with maximum CP% of 172 g/kg with 800 kg N/ha in spring. Further studies are warranted to determine if economics indicate that the higher fertilizer levels are justified and even protected urea should still be applied on a number of occasions, but still less often than conventional urea, rather than as a single dose at the beginning of spring.
How to Cite
Alves, F. G. da S., Carneiro, M. S. de S., Araújo, M. J., Ratke, R. F., Lima, B. S. L. de, Gomes, N. de S., Silva, R. R. da, & Edvan, R. L. (2022). Forage characterization of Carajás grass (<i>Cenchrus purpureus</i> × <i>C. americanus</i>) fertilized with a range of doses of protected urea under irrigation during the growing season. Tropical Grasslands-Forrajes Tropicales, 10(3), 164–171. https://doi.org/10.17138/tgft(10)164-171
Downloads
Download data is not yet available.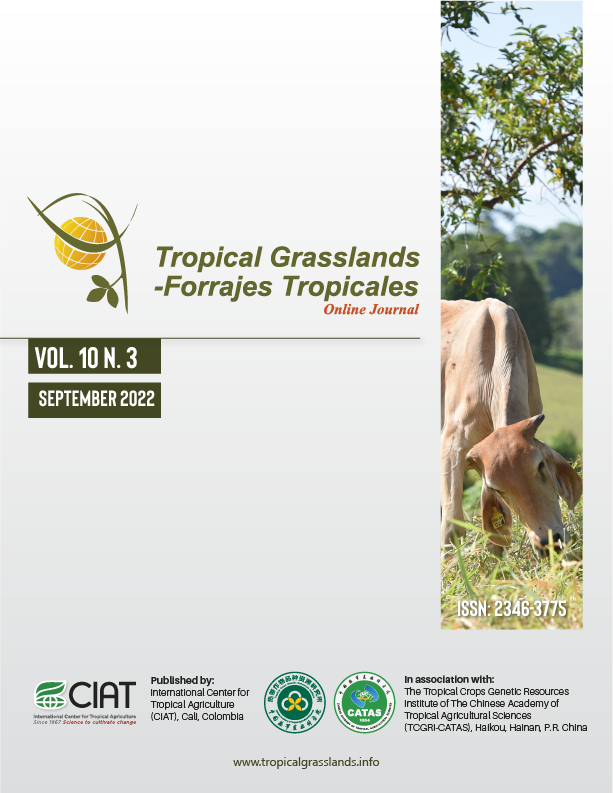 Downloads