Seasonal nutritive value and in vitro fermentation kinetics of foliage of some multipurpose shrub species in northeastern Mexico
Abstract
This study aimed to determine seasonal chemical composition, metabolizable energy (ME) concentration, in vitro gas production patterns, in vitro organic matter digestibility (IVOMD) and in vitro true organic matter digestibility (IVTOMD) of foliage from 5 native shrub species (Celtis pallida, Croton suaveolens, Forestiera angustifolia, Guaiacum angustifolium and Parkinsonia aculeata) growing in semi-arid areas of northeastern Mexico between July 2018 and June 2019 at 2 research sites. Crude protein (CP) concentrations (>13.2% DM) found in leaf material should meet or exceed the requirements for maintenance of small ruminants; C. pallida provided the highest CP% (20.8‒29.3%). While CP% varied with season and site, species had a greater effect than either of those factors overall. ME concentrations ranged between 1.2 and 2.0 Mcal/kg DM. Neutral detergent fiber and acid detergent fiber concentrations ranged from 29.8 to 51.7% DM and 9.8 to 33.0% DM, respectively. Data obtained for IVOMD (34.5‒58.8%) and IVTOMD (64.1‒88.7%) demonstrate the high nutritive potential of leaf of browse species under study, especially C. pallida, as useful feed supplements for small ruminants in the semi-arid region of northeastern Mexico. Further studies could examine DM yields of browse from the various species, acceptance by small ruminants and their sustainability under regular defoliation under grazing.
How to Cite
Chávez Espinoza, M., Bernal Barragán, H., Guerrero Cervantes, M., Cantú Silva, I., Cotera Correa, M., González Rodríguez, H., & Estrada Castillón, A. E. (2022). Seasonal nutritive value and in vitro fermentation kinetics of foliage of some multipurpose shrub species in northeastern Mexico. Tropical Grasslands-Forrajes Tropicales, 10(3), 184–194. https://doi.org/10.17138/tgft(10)184-194
Downloads
Download data is not yet available.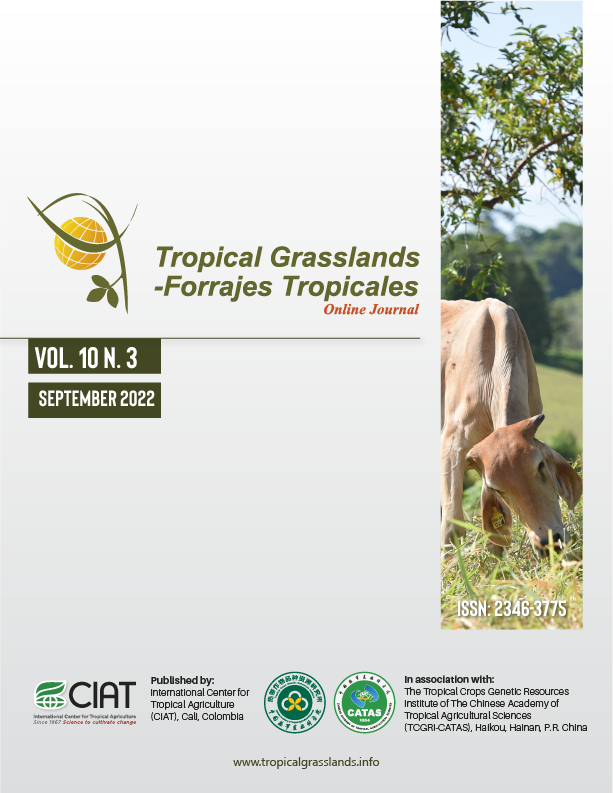 Downloads